Entergy is a leader in clean generation. More than half of the energy we supply to meet utility demand comes from efficient natural gas-fired generation and clean nuclear generation. In 2017, the most recent benchmarking data available, Entergys emission rate was 601 pounds per MWh, much lower than the national average of 1,041 pounds per MWh.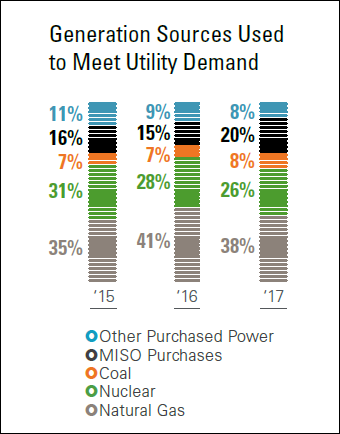 As a result of our portfolio transformation strategy, natural gas represents 38 percent of our existing utility generation sources. Our new-build natural gas-fired units, in operation, proposed or under construction, represent nearly 4,000 MW of new generation. Replacing older generation with new natural gas-fired units offers several advantages. These units will improve system reliability, increase environmental efficiency and reduce costs for our customers by using less fuel and improving fleet efficiency.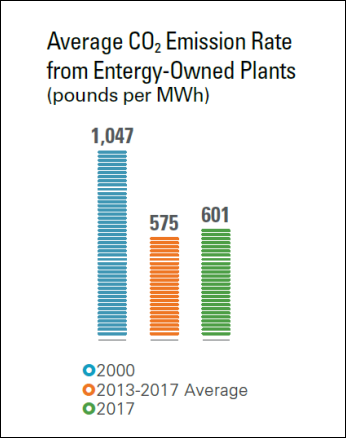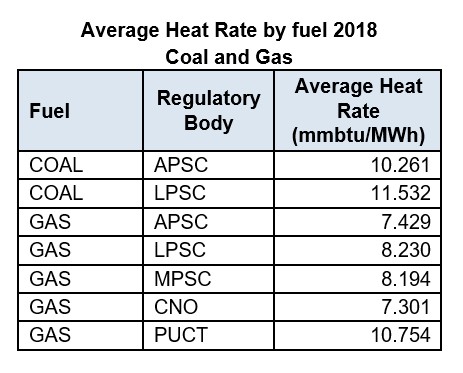 New units also have lower maintenance costs, produce up to 40 percent fewer carbon emissions and require less water. Since 2000, while our annual electric generation grew by 18 percent, our investments in clean energy capacity have resulted in:
70 percent reduction in absolute NOx emissions and 75 percent reduction in NOx emission rates;
32 percent reduction in absolute CO2 emissions and 43 percent reduction in CO2 emission rates; 
62 percent reduction in SO2emissions and 68 percent reduction SO2 emission rates; and
 91 percent reduction in Hg emissions and 92 percent reduction Hg emission rates.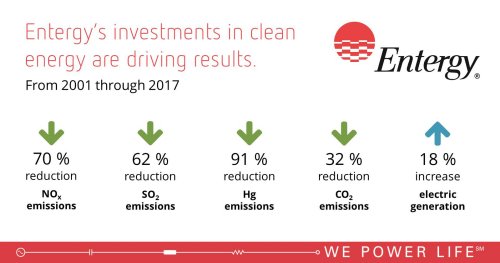 Our energy mix includes approximately 2 million MWh of renewable energy, which consists of hydro, solar, biomass, landfill gas, waste heat recovery and wind renewable energy credits. This represents nearly 2 percent of our generation sources used to meet utility demand in 2017. While still a small portion of our utility generation, technological advances are making renewable energy as well as certain distributed energy resources increasingly cost-competitive.
Over the next three years we are pursuing 1000 MW of renewable resources. Two power purchase agreements in Arkansas represent approximately 180 MW, and of the remainder, approximately half represent ownership opportunities.
Entergy Louisiana signed a 20-year agreement to buy the output of a proposed 50-megawatt solar photovoltaic power plant, the largest solar facility currently planned for Louisiana, once it is up and running in early 2020. Learn more.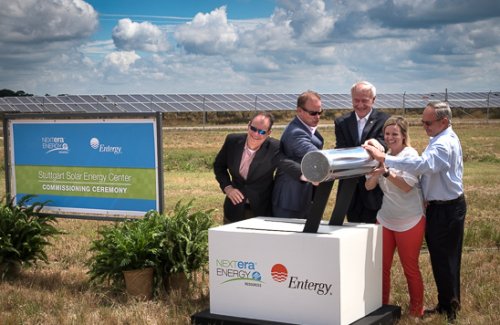 >> Stuttgart Solar Commissioned in Arkansas
To see how Entergy's emissions compare to other privately owned and investor-owned power producers, see the charts on our Environmental Footprint page.