Entergy is a leader in clean generation. More than half of the energy we supply to meet utility demand comes from efficient natural gas-fired generation and clean nuclear generation.
In 2018, we released our climate report and scenario analysis outlining plans, goals and opportunities for Entergy's continued leadership in generating electricity cleanly and responsibly. Initiatives include continued transformation of our generating portfolio to lower-emitting resources, potential partnerships with other industries to further reduce emissions in our communities through electrification, advocacy on climate policy and issues and investments in modernizing our grid to improve community resiliency. Read about our new climate goal on the Environmental Footprint page.  
In 2018, the most recent benchmarking data available, Entergy's emission rate was 617 pounds per MWh, much lower than the national average of 1,009 pounds per MWh.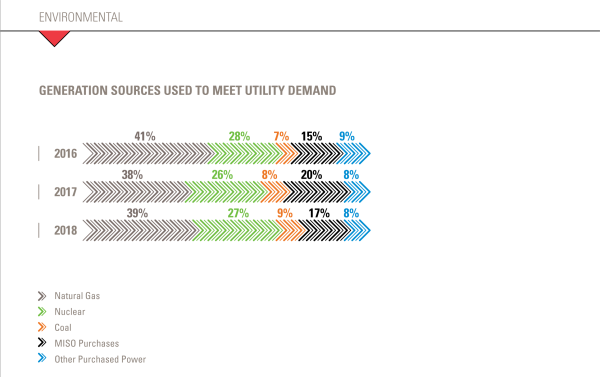 Entergy's investments in our generation portfolio transformation and nuclear improvements have greatly reduced both absolute air emissions and emission rates since 2000. Over the past 13 years, we have added approximately 5,900 MW of clean, highly efficient combined-cycle gas turbine generation, allowing for the deactivation of over 6,300 MW of older, less efficient gas or oil units. Replacing older generation with new natural gas-fired units offers several advantages. These units will improve system reliability, increase environmental efficiency and reduce costs for our customers by using less fuel and improving fleet efficiency.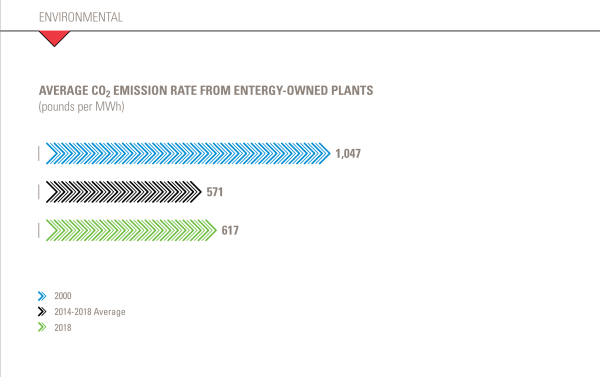 Combined-cycle gas turbine plants are highly efficient and reduce the amount of fuel burned per kilowatt hour of energy produced, thus greatly reducing emissions. Entergy's strategy has allowed the deactivation of over 6,300 MW of older, less efficient gas or oil units. Since 2000, while our annual electric generation grew by more than 27 percent, our investments in clean energy capacity have resulted in: 
72 percent reduction in absolute NOx emissions and 78 percent reduction in NOx emission rates.
25 percent reduction in absolute CO2 emissions and 41 percent reduction in CO2 emission rates.
59 percent reduction in SO2 emissions and 68 percent reduction in SO2 emission rates.
90 percent reduction in Hg emissions and 92 percent reductions in Hg emission rates.
In 2018, Entergy announced that Entergy Arkansas and its affiliates will begin to use only low-sulfur coal at White Bluff and Independence coal generating plants starting no later than June 30, 2021; will cease to use coal at White Bluff no later than the end of 2028; and will cease to use coal at Independence no later than the end of 2030. These actions will result in Entergy closing 80 percent of its coal fleet. In addition, we will continue to use only natural gas at Lake Catherine Unit 4 until ceasing plant operation by the end of 2027.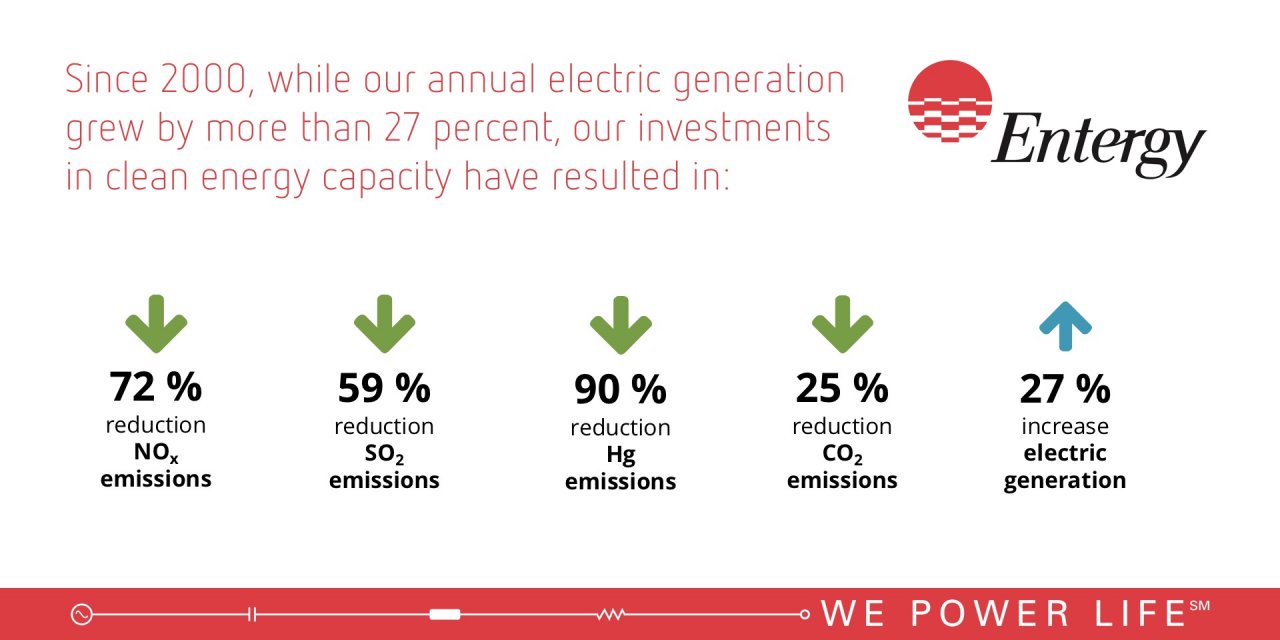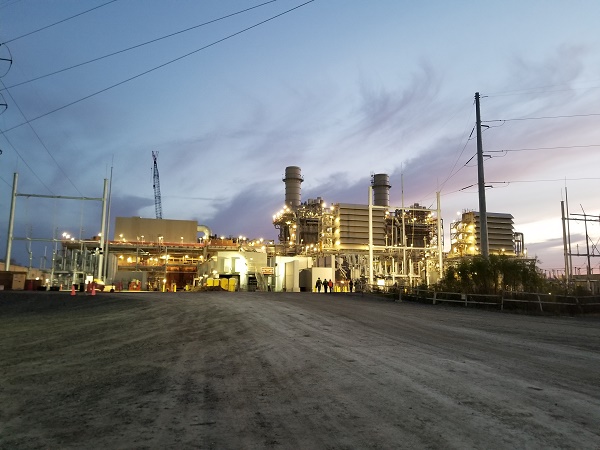 In May 2019, Entergy Louisiana's St. Charles Power Station commenced commercial operation.
The 980-megawatt power station is one of the cleanest natural gas-powered plants in Entergy Louisiana's fleet. Combined-cycle gas turbine units like the St. Charles facility emit on average about 40% less carbon dioxide than Entergy's older natural gas-powered units.
Our energy mix includes approximately 2.5 million MWh of renewable energy, which consists of wind renewable energy credits, solar, hydro, biomass, landfill gas and waste heat. This represents nearly 2 percent of our generation sources used to meet utility demand in 2018.
As technology and economics continue to improve, we are exploring utility-scale renewable opportunities as well as potential applications for distributed energy resources. 
Entergy's utilities currently have approximately 1,000 MW of renewable resources in various stages of development, and approximately 3,500-4,000 MW of owned renewables potential by 2030. Two power purchase agreements in Arkansas represent approximately 180 MW, and of the remainder, approximately half represent ownership opportunities. Entergy Louisiana signed a 20-year agreement to buy the output of a proposed 50-megawatt solar photovoltaic power plant, the largest solar facility currently planned for Louisiana, once it is up and running in early 2020. Learn more.
As of Dec. 31, 2018, our utilities had approximately 20,000 customers with self-generation equipment, virtually all of which are rooftop solar photovoltaic systems. Over the years, we have made numerous process improvements and added dedicated resources so that customers who choose to self-generate have access to clear and timely information and resources. We also continue to engage with our regulators and stakeholders on policy matters as well as possible avenues to expand renewable energy alternatives.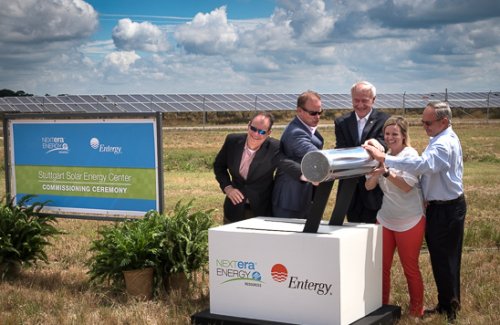 Stuttgart Solar Commissioned in Arkansas
To see how Entergy's emissions compare to other privately owned and investor-owned power producers, see the charts on our Environmental Footprint page.