Since 2001, Entergy has operated under voluntary commitments to stabilize our CO2 emissions as part of our efforts to be environmentally responsible and manage risks related to potential federal legislation of emissions.
According to the 2018 Benchmarking Air Emissions Report, Entergy is the sixth-largest of the top 100 power producers. At the same time, Entergy ranks fifth in the production of zero-emitting energy. Entergy's CO2 emission rate is the fourth lowest among the top 20 privately owned and investor-owned power producers. For more details on how Entergy compares, see the charts below: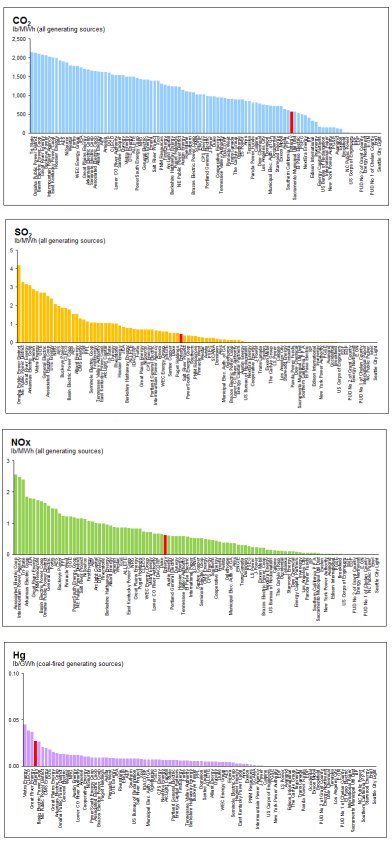 Our current commitment is to maintain CO2 emissions from Entergy-owned power plants and controllable power purchases through 2020 at 20 percent below year 2000 levels. Through 2017, our cumulative emissions were more than 8 percent below our commitment level. Learn more on our Clean Generation page.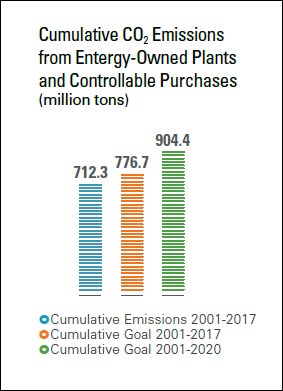 Entergy also continues to invest in innovative projects that reduce emissions. For example, electric vehicles account for a growing percentage of the nation's transportation portfolio. In 2017, we launched our Power Drive initiative to ensure we're prepared to meet our customers' needs for power to supply electric vehicles safely and reliably.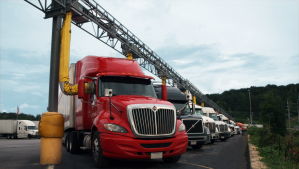 Other innovative emissions-reducing efforts include IdleAir truck stop electrification technology and incentives for agricultural customers to convert diesel irrigation pumps to electric. 
To submit an environmental improvement project for consideration of funding through Entergy's Environmental Initiatives Fund, click here for the request for proposals. For a history of projects funded through the EIF, click here. 
Biodiversity and Habitat Restoration
Our commitment to biodiversity and habitat restoration includes projects such as utilizing our integrated mapping systems to twice reroute a proposed 25-mile transmission line in Madison County, Mississippi, to avoid three identified eagle nests and investing in wetlands restoration efforts to promote greater resiliency in our service territory, enhance biodiversity and local ecosystems. We actively participate in avian monitoring programs and have an Avian and Wildlife Protection Standard that promotes compliance with wildlife conservation and avian protection laws. Reducing electrical system impacts on wildlife also contributes to improved service reliability for our customers.
We assess biodiversity risks at all operating sites and develop facility-specific plans to reduce risks and protect and enhance biodiversity as needed. We also maintain a Biodiversity Peer Group that examines related legislation, regulation and issues at all levels of government that impact Entergy's operations or are impacted by Entergy's operations, to provide a forum for members to discuss these issues and to provide a vehicle for development and coordination of path-forward strategies. The group also is charged with identification and/or implantation of projects/programs to enhance biodiversity and promote awareness/educate employees and the public regarding the advantages to enhancing biodiversity. See Entergy's Commitment to Biodiversity White Paper for more information.
Recycling and Waste Minimization
Entergy maintains a waste management and minimization standard that outlines our basic philosophy and expectations regarding activities that play key roles in reducing our environmental footprint. Entergy reduces waste by repurposing unused or obsolete material such as scrap wire and metal that is recycled, on-road and off-road vehicles and trailers sold through auctions, and miscellaneous stored materials deemed obsolete such as pumps, valves, electronic parts, office equipment and more through investment recovery sales. In 2017, these sales totaled approximately $11 million.
Our management approach to reduce waste includes resale/recycling of coal combustion residual, which is the largest single waste stream from our coal-fired plants. Entergy proactively sells much of this CCR for beneficial reuse. Entergy's 2017 recycle rate of 87 percent ranks it as one of the largest CCR recyclers in the country thus, helping us reduce the amount of landfill space needed to dispose of this material.
More information on our recycling actions can be found in our 2017 Integrated Report and our Performance Data Table.
We're also benefiting our customers and the environment by providing more online, self-service tools that reduce reliance on paper bills and communications. These transactions, which include web, text message and interactive voice response, now represent nearly 50 percent of our customers' transactions. In 2017, we met our target goal of approximately 765,000 customers opting for paper-free electronic billing, an option that not only meets customers' needs but also helps reduce environmental impacts. Electronic billing also represents more than $8 million in annual operational savings versus providing paper bills.
Minimizing Water Use
Reliable access to clean water is an area of increasing concern for many of the customers and communities we serve. We work to minimize our impact on water by using water-saving technologies and minimizing our water withdrawal in water-stressed areas. We also use reclaimed or recycled water in our cooling systems where applicable. We protect water resources by maintaining a compliance rate with state and federal permit requirements of at least 99 percent from year to year. Related performance data: Water Withdrawn, Water Permit Exceedances.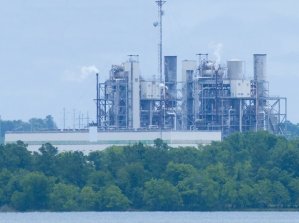 Entergy's Lewis Creek plant is located in the state of Texas Lone Star Groundwater Conservation District, an area identified as water-stressed. The plant worked with the water conservation district to optimize water use, gaining best practices that can help us use water wisely throughout our operations. The plant achieved its water conservation goal of minimizing freshwater withdrawals by 30% by 2016 and maintained this level during 2017.
 
Fleet modernization also minimizes our impact on water. Cleaner, more efficient generating sources use significantly less water than legacy units. We are engaged with stakeholders in our local communities to find innovative new solutions related to water. For example, we supported Water Challenge 2017, an initiative presented by Propeller, a New Orleans-based nonprofit organization that focuses on solving New Orleans' most pressing water issues through entrepreneurship.