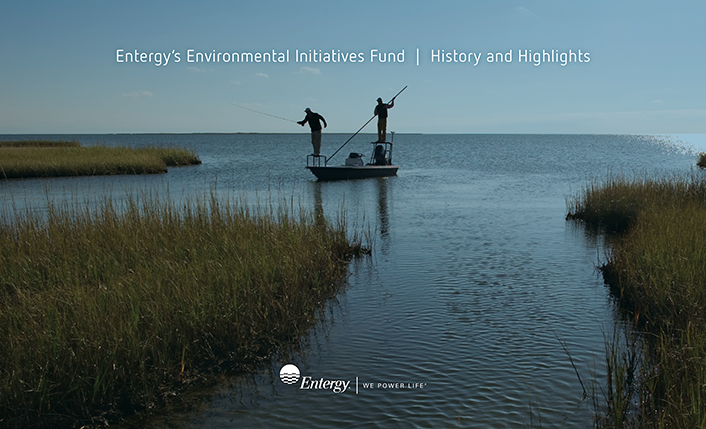 Our utilities own and lease over 21 GW of generation, approximately 15,900 circuit miles of high-voltage transmission lines and 105,000 circuit miles of distribution lines in the southeastern United States — an area susceptible to storms potentially made worse by coastal wetlands loss.
Entergy takes into consideration the resiliency of our assets from design and construction to operations and maintenance. Activities include infrastructure investments and upgrades, participation in the Department of Energy's Partnership for Energy Sector Climate Resilience, installation of advanced metering infrastructure, and support of and participation in several community and consumer resiliency initiatives.
In 2001, we established the Entergy Environmental Initiatives Fund to support environmentally beneficial projects with an emphasis on climate change mitigation and solutions. Since 2001, Entergy has funded a variety of creative and innovative projects through the EIF, including CO2 capture/sequestration, habitat restoration, wetland restoration, reforestation, water quality, energy efficiency, waste minimization, voluntary CO2 offset purchases, community development for environmental outreach/education/demonstration, and creative environmental and energy-efficiency commercialization.
With support from the EIF, we helped reforest the Trinity River National Wildlife Refuge in Texas and are helping create the country's largest urban natural wildlife area in Mississippi — the Fannye Cook Natural Area on the Pearl River near Jackson. Three times the size of New York City's Central Park, the area will include bridges, boardwalks and trails; wildlife viewing areas; kayak, canoe and boat launches; and an eagle nesting structure to attract more wildlife.
Entergy also has invested more than $1.5 million through the Restore the Earth Foundation in a landscape-scale reforestation project in the Tensas River National Wildlife Refuge in Louisiana. Every $1 invested is estimated to generate more than $36 in environmental, social and economic value including cleaner air and water, soil stabilization, storm protection and flood control, enhanced recreational opportunities and job creation.
Recent projects supported by the Environmental Initiatives Fund include our partnership with Tierra Resources to help restore and preserve more of Louisiana's wetlands through aerial planting of mangroves. Wetlands play a crucial role in storm protection and economic prosperity for many of our communities, and they help protect Entergy assets
We continue to support various actions and collaborations on climate change and adaptation issues to identify the most effective solutions that policymakers can undertake now. In 2010, Entergy sponsored a study, Building a Resilient Energy Gulf Coast, regarding adaptation investments and their cost-benefit ratio with regard to avoiding damage from extreme weather. Forums were conducted in 2011 and 2012 in partnership with America's WETLAND Foundation. In 2017 we engaged with The Lowlander Center to revisit the 2010 study and the recommendations of community forums that were conducted in 2011 and 2012 in partnership with the America's WETLAND Foundation. In 2018, we supported the foundation's actions to conduct follow-up community forums to gauge progress since the original Blue Ribbon Resilient Community forums.
To submit an environmental improvement project for consideration of funding through Entergy's Environmental Initiatives Fund, click here for the request for proposals. For a history of projects funded through the EIF, click here.
Saving Wetlands: Entergy Helps Restore Wetlands in Luling, Louisiana - Entergy partnered with Tierra Resources and the local community on an innovative solution for restoring wetlands (2017).