Entergy powers life – even through a pandemic. Our reach didn't stop because the world did. In many ways, it extended even further. We've taken this time to reinforce and strengthen our commitment to our communities. We continue to buy locally, invest in capital projects, give essential support to our community partners, develop solutions for our customers, provide resources for small businesses and, ultimately, fuel our communities so that they can continue. Continue their causes. Continue their operations. Continue their lives. Entergy enables continuous connections.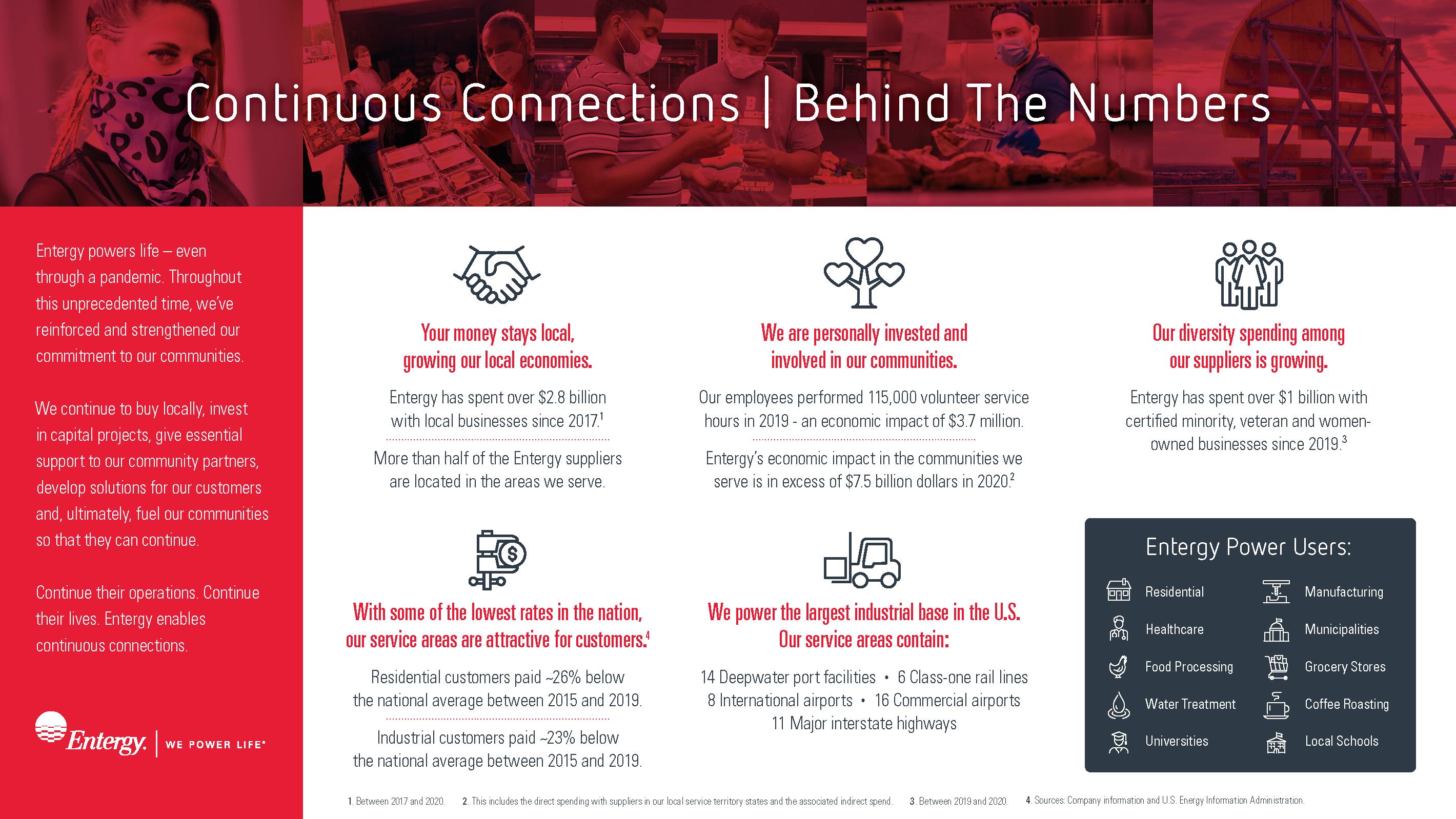 Giving Back - Inspiring Innovation at Southern University
Students and faculty at Southern University are using 3D printers in their Entergy-sponsored lab to make parts for reusable N95 masks to be used by COVID-19 health care professionals.
For 20 years, Entergy has championed the Low Income Energy Assistance Program. During the pandemic, the need has grown exponentially. Seeing this need, Entergy and our community partners helped advocate for an additional $900 million LIHEAP funding through the CARES Act.
Giving Back - Volunteering During COVID-19
Volunteering is one of the most important ways that Entergy employees power life in our communities. The company's one million volunteer hours serving local communities and supporting nonprofits translates into more than $25 million in economic impact. And during COVID-19, we stepped up even more.
Supporting Local - Briarwood Contractors
As COVID-19 began impacting our communities, we partnered with suppliers like Briarwood Contractors to provide suddenly vital items like masks and disinfectant. Briarwood, a 100% woman/minority-owned business, has helped us meet the challenge of safely bringing essential employees into work and putting money back into our local economy. Since 2017, Entergy has spent over $2.2 billion with certified diverse suppliers like Briarwood Contractors. 
Supporting Local - Riverbend and Flowserve
Entergy is committed to our communities - and our local economies. Since 2017, we've spent $2.8B with local suppliers. So when our River Bend facility needed maintenance, we turned to Flowserve in Baton Rouge. They were not only able to handle the highly specialized work, they also completed it quickly. This kept $1.5 million in Baton Rouge - and Flowserve's shop floor full of employees. 
After Hurricane Laura devastated southwest Louisiana, there weren't enough poles available to replace the roughly 14,000 that Entergy needed to rebuild our distribution system. We worked with T&C Distributors to locally source between 680-1,275 storm-hardened poles per day during our restoration.
Helping Customers - Touro Hospital
When Touro Hospital had its own emergency, Entergy's transformer repair shop stepped up. Our teams repaired their transformers in one day, ensuring they could continue their essential work without experiencing an outage. This is just one of the ways we're helping our communities and customers through these times.
Entergy's Innovative Shore Power Project Helps Customers and the Environment
Our Shore Power offering is innovative electrification in action extending the Entergy electrical grid to marine vessels at berth. Economically, shore power allows our customers to access low electricity rates while also increasing operational efficiency, potentially reducing maintenance costs and wear-and-tear of their engines. Environmentally, it reduces the amount of greenhouse gas emissions of vessels while berthed at port. The connection time, rate of power consumption and energy costs impact the overall effectiveness of shore power.
Power Through! Entergy Mississippi aims for a future where nothing will stop the delivery of energy
Entergy is uniquely positioned to make backup power more affordable for your business. We are committed to providing solutions that better serve our customers. Power Through generators help local businesses stay up and running during outages to support our communities.