Diversity & Inclusion Vision
We Power Life with a diverse, inclusive and engaged culture that inspires all individuals to work together to grow a world-class energy business that creates sustainable value.
Diversity & Inclusion Mission
We achieve our Vision by:
Attracting, recruiting and retaining a skilled, high-performing and diverse workforce that reflects our marketplace.
Committing resources to cultivate an inclusive culture that respects employees' differences, recognizes and rewards their diverse talents, and helps them reach their full potential.
Engaging the community and a diverse network of suppliers to create value for our stakeholders.
At Entergy we recognize that:
Diversity is a business imperative that helps to achieve business results. We understand that in order to be a leader, not only in our industry but also across all businesses, we must go beyond simply accepting "equal opportunity" as a legal requirement. We must value and embrace diversity as a strategic competitive advantage. In order to do this, we must develop and promote leadership capable of managing in a diverse environment.
Diversity is important because we are changing. The U.S. population is becoming increasingly diverse and the traditional definition of diversity -- race, gender, and age -- has evolved appropriately to include anything that makes us different from one another. We are a kaleidoscope not only of ideas, but also of various races, religions, generations, languages and cultural groups.
We are collectively stronger through an inclusive culture. Entergy is committed to not only create and maintain, but also leverage and value the richness of a diverse workforce so that every employee has an equal opportunity to contribute in significant ways to the effectiveness of the organization. Our employees will be highly regarded for valuing others and promoting the right of every person to reach his or her full potential; that means integrating our values into our daily interactions and behaviors.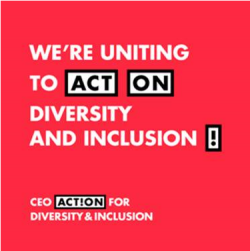 Our Diversity Strategy
A cornerstone of Entergy's culture is respect, respect for every individual regardless of race, color, sex, religion, pregnancy condition, nationality, age, sexual orientation, gender identity or expression, veteran's or marital status, disability, or any other cultural factor. "Tolerance" is insufficient in this organization that values the differences among its approximately 12,500 employees.
In 2020, the New York Urban League gave its Champions of Diversity award to Leo Denault, Entergy Chairman and CEO. The award honors companies and leaders for outstanding corporate citizenry and commitment to diversity, their leadership, hiring, supplier relations and philanthropic practices. The same year, Entergy received its third straight HIRE Vets Medallion Award. The company is one of only 58 employers in this country who have earned this award since its inception in 2018. The HIRE Vets Medallion program recognize employer efforts to recruit and employ and retain veterans.
Entergy earned a 90% rating on the 2021 Corporate Equality Index released by the Human Rights Campaign Foundation. This score paces Entergy among the top energy and utility companies in the survey. The Corporate Equality Index rates employers on workforce protections, inclusive benefits, supporting an inclusive culture and corporate social responsibility, and responsible citizenship.
Entergy was recognized as one of the best places to work in the greater New Orleans area for the fourth consecutive year. The Times Picayune | The New Orleans Advocate named Entergy a 2020 Top Workplace based on results of an employee feedback survey. The anonymous survey uniquely measured 16 drivers of engaged cultures critical to the success of any organization, including alignment, execution, and connection.
US Black Engineer & Information Technology magazine named Entergy one of the top 20 industry supporters of HBCU engineering schools. Entergy won Ragan's CSR & Diversity Award for the Town Hall on Race & Equality and has been named to the Forbes list of America's Best Employers For Veterans 2021.
The company was named to the Top Corporations for Women's Business Enterprises by the Women's Business Enterprise National Council (2019); Entergy scored 100 on the 2019 Disability Equality Index, classifying the company as one of the best places to work for people with disabilities. Entergy's employee resource groups ranked 23rd among the Association of ERGs & Councils' 2019's top 25 U.S. employee and business resource groups and diversity councils. Other awards include Best Companies for Diversity by Black Enterprise Magazine (2018) and 2020 Women on Boards Winning 'W' Company for five consecutive years.
For a list of other awards and recognition, visit Entergy's newsroom here.
Employer of Choice
The company works hard to attract talented, diverse employees through our college recruiting efforts and partnerships with organizations and educational institutions. These efforts include partnering with historically black colleges and universities.

Through these partnerships, we've contributed more than $7.4 million to historically black colleges and universities in our service territory. But our partnerships go beyond monetary donations. We've also established formal mentoring programs, collaborated in research studies and provided intern/co-op opportunities for students.
Entergy has more than 25 employee-directed diversity and inclusion councils throughout seven states, and eight companywide employee resource and affinity groups.
Diversity and Inclusion Councils
Diversity and inclusion council members develop and implement action plans to advance the knowledge and understanding of diversity and inclusion within the organization, support organizational health and broader business objectives. 
Employee Resource Groups
Entergy's eight employee resource groups – Leadership, Administrative Professionals, Multicultural, Women's, Veterans, Shift Workers, Pride and Generational – give employees an opportunity to have an impact on issues affecting the entire workforce. ERGs help foster a company culture that is able to bring about broad and meaningful change.
Entergy also has mandatory diversity and inclusion training for all employees and managers, and staffing and succession planning programs focused on ensuring that every employee, without regard to gender, race, sexual orientation, disability or any other characteristic, are given the tools and resources needed to help them reach their greatest career potential.
To view current job opportunities at Entergy, go to our Careers website.
Business Partner of Choice
Entergy has long been recognized as a business that works with the people whom we serve. In 1987, we became the first electric utility holding company in the nation to commit to the NAACP's Fair Share Principles. Since that time, Entergy has invested more than $5 billion with minority and women suppliers who provide a wide range of goods and services.
As with any major corporation, we use a wide range of goods and services from external sources. Our suppliers provide everything from office supplies to electrical components to construction.
For more information on Entergy's supplier diversity, visit our Supplier Diversity page.
Good Corporate Citizen
Entergy has a long history of support for the community, and we believe that reinvesting in the communities where we live and work will enhance the vitality and quality of life in those areas that are, in large part, responsible for our success. We recognize the importance of turning good intentions into positive action. It's not only good business. It is also simply the right thing to do.
Entergy serves one of the most poverty stricken areas of the nation -- the Mississippi River Delta. According to statistics released by the Children's Defense Fund, three of the nation's ten counties with the highest child poverty rates are in Louisiana and Mississippi, states that Entergy serves. Eleven of the thirty-eight counties with child poverty rates higher than even the poorest U.S. cities are rural counties in Arkansas, Louisiana, and Mississippi -- all in Entergy's service area. New Orleans, Entergy's headquarters city, has the third-highest child poverty rate in the nation. More than 40 percent of New Orleans children (51,707 out of 127,566 persons under age 18) live in poverty.
In recognition of these issues, in 1999 Entergy became the first U.S. electric utility to sponsor a Low-Income Customer Assistance Summit. Since the 1999 Summit, Entergy has maintained a close relationship with a diverse group of national, regional and local institutions from a multi-state area to address the needs of customers – from issues like affordable energy to literacy.
In 2000, Entergy unveiled the Entergy Charitable Foundation, a non-profit dedicated primarily to assisting other charitable institutions that focus on low-income customer initiatives, education and literacy programs throughout the company's service territory. Since 2000, Entergy and the Entergy Charitable Foundation have contributed more than $20 million to nonprofit organizations that help low income individuals and families break the cycle of poverty. Typical programs funded include job training, education, literacy, affordable housing initiatives and asset creation.
Through Entergy's innovative The Power to Care program, local nonprofit agencies are able to provide emergency bill payment assistance to seniors and disabled individuals in crisis.  All individual donations are matched dollar for dollar by Entergy's shareholders, helping to ensure that a choice does not have to be made between medical care and utility service.
For more information on Entergy's corporate philanthropy, go to "Our Community".
A message from Leo Denault, Entergy's Chairman of the Board and Chief Executive Officer: Laying a Foundation for Positive Change