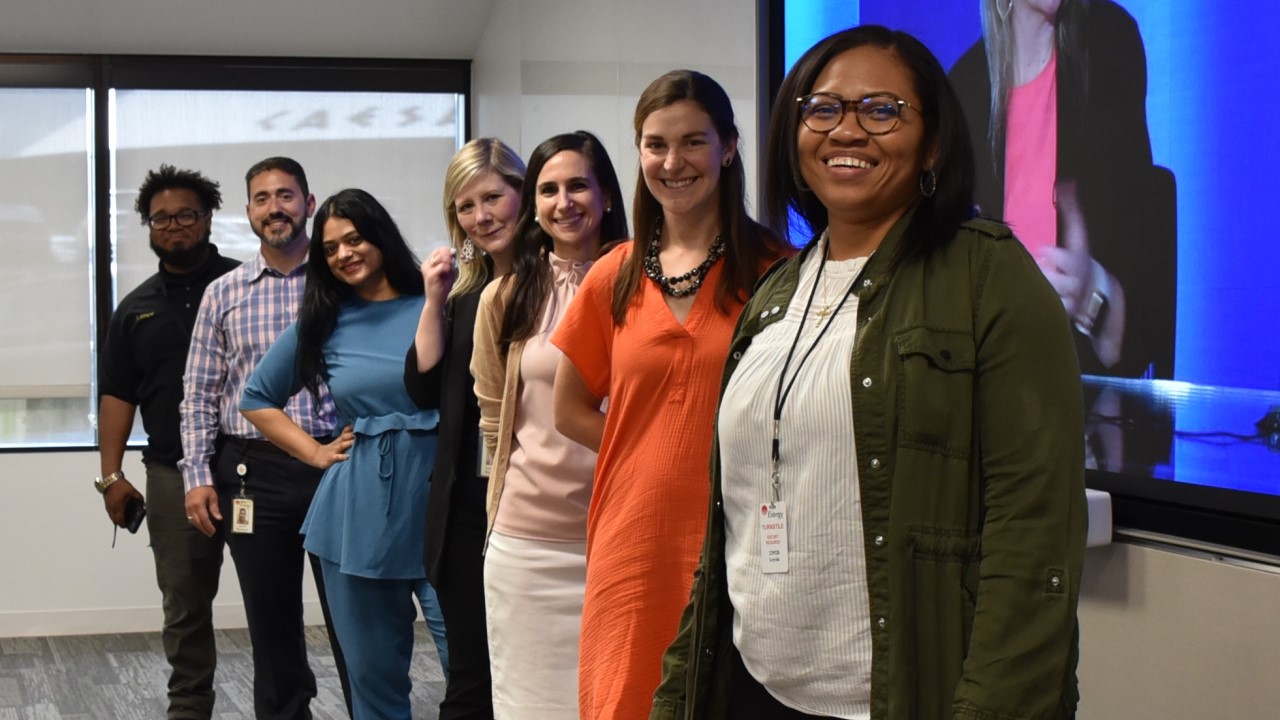 Our goal is to attract, develop and retain a high-performing workforce that reflects the rich diversity of the communities we have the privilege to serve. By creating a culture of diversity, inclusion and belonging, we're empowering our employees to reach their full potential and show up to work every day and contribute to our mission of powering life for our customers and communities. We're engaging with our communities and a diverse network of suppliers to create sustainable value. We're building stronger relationships, gaining insights to better understand all our stakeholders, improving our ability to recruit and retain the best talent, and creating higher performing, more inclusive teams.
The culture of diversity, inclusion and belonging starts at the top with Entergy's board of directors. The board's personnel committee has direct oversight and engagement with our DIB strategy, and we report to the committee on our DIB performance at every regular meeting of the board and its committees. To further demonstrate our commitment to diversity, inclusion and belonging, we implemented a new DIB performance measure in 2021 to help determine the funding level for employees' short-term incentive awards. This DIB measure, weighted at 10% of the overall funding for the plan, is qualitatively assessed based on our DIB initiatives and outcomes in the workforce, workplace and marketplace. We continue to report on our DIB progress each year in our Integrated Report.
Elevating different perspectives from a diverse and empowered workforce makes us smarter, stronger and more valuable to our customers, communities and each other. As we make progress on our diversity, inclusion and belonging journey, we continue to identify opportunities to enable innovation, solve problems, meet sustainability goals and instill DIB concepts into our company's culture.
Our workforce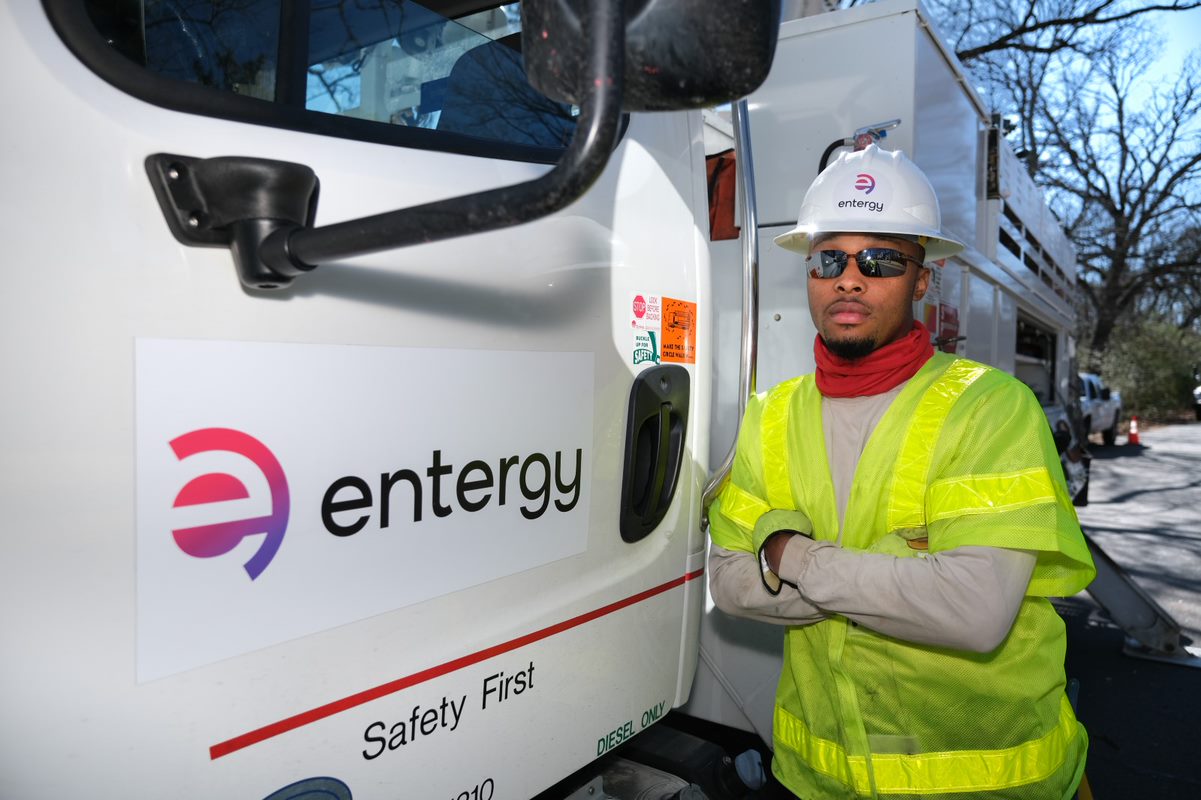 Powering life for our customers, communities and owners starts with focusing on our employees who are working every day to build the premier utility. The success of our company relies on a workforce that has the training, tools and direction to envision a better future and to make it a reality.
Our people approach extends across an employee's lifecycle at Entergy — from talent attraction, recruitment, onboarding and retention. In 2021, we established a new Diversity and Workforce Strategies organization to serve as a center of excellence for workforce development, talent attraction/pipeline development, and organizational health and diversity. This organization, led by Vice President of Diversity and Workforce Strategies Taiwan Brown, not only sets Entergy apart but is also an accelerator in the talent attraction and inclusive hiring process.
Among other things, the Diversity and Workforce Strategies organization supports strengthening our partnerships with colleges and vocational-technical schools for a better pipeline of future talent while increasing employee engagement and overall organizational health for our current workforce. This strategy leads to greater innovation, problem-solving and a customer-centric mindset. We also have a robust workforce planning department that uses predictive analytics for turnover and retirement so we can proactively address future hiring and staffing needs.
We regularly monitor our progress towards our goal of attracting, developing and retaining a more diverse workforce. Over the last several years, we have made consistent gains in female and minority representation in the workforce and in management. In 2022, the company enhanced sick time eligibility for new employees. We also increased the number of observed holidays by adding the Martin Luther King, Jr. holiday for all employees.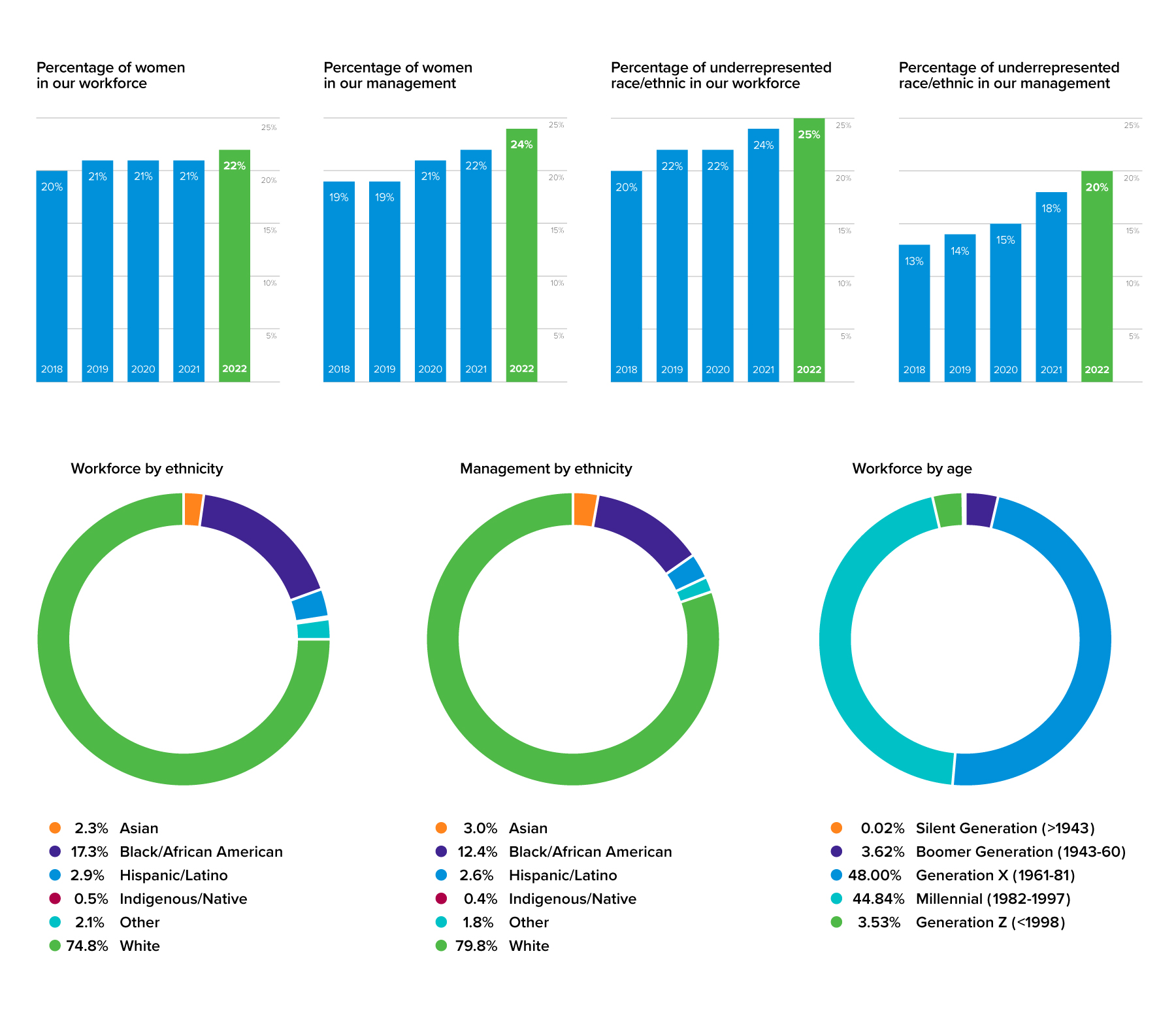 Data as of Dec. 31, 2022.
View Entergy's equal employment opportunity or EEO-1 consolidated report here.
---
Our involvement in workforce development across Arkansas, Louisiana, Mississippi and Texas creates job opportunities for the communities in which we operate and serve. Our program's focus begins with students and has ownership of state-based workforce development and talent attraction activities, including high school, college, community and industry-related programming.
We have a comprehensive and inclusive recruitment and hiring strategy that includes college recruiting efforts and partnerships with diverse community organizations and educational institutions. We have partnered with key organizations, such as National Society of Black Engineers, Society of Women Engineers, the American Association of Black Engineers, the National Utility Diversity Council, the Center for Energy Workforce Development, and veterans' organizations with a focus on attracting a diverse talent pool. To support the need for technology-related skills, we were the lead sponsor of and active participant in Black Tech NOLA 2022, the inclusive innovation conference of the New Orleans Black Tech Collective. For six consecutive years, the U.S. Department of Labor has recognized Entergy as a recipient of the HIRE Vets Medallion Award, which honors exceptional achievement in veteran employment and recognizes our commitment to workforce development and military and diversity recruiting.
We're committed to investing and supporting educational outcomes. Since 2018, we have contributed more than $7.4 million to historically black colleges and universities in our service area for facility and curriculum improvements, technology, scholarships, and internship and mentoring programs. We are creating pipeline of opportunities for engineers of color to enter our workforce as evidenced by our ongoing partnerships with HBCUs. Entergy was recognized by the Mississippi Association of Partners in Education with the 2022 Governors Award with the Energy Academy recognizing Mississippi's top school-community partnerships.
We designed summer camps promoting science, technology, engineering and math or STEM curriculum to bring awareness and knowledge for future career development in the utility industry. Entergy had two STEM camps in 2022 — held at Jackson State University and in Claiborne County, Mississippi. Students ranged from fourth grade to engineering college students. Introducing the utility industry through hands-on STEM activities at an early age enhances enthusiasm, interest and exposure.
Entergy has a long history of investing strategically with a goal of improving schools and educational outcomes and building a talent pipeline. We expanded diverse pipeline development to non-traditional education partners connecting high school graduates to jobs. The Oscar Washington, Jr. Initiative, named in honor of a former Entergy Arkansas vice president of customer service, was created to provide pathways for career success and scholarship opportunities for underrepresented students.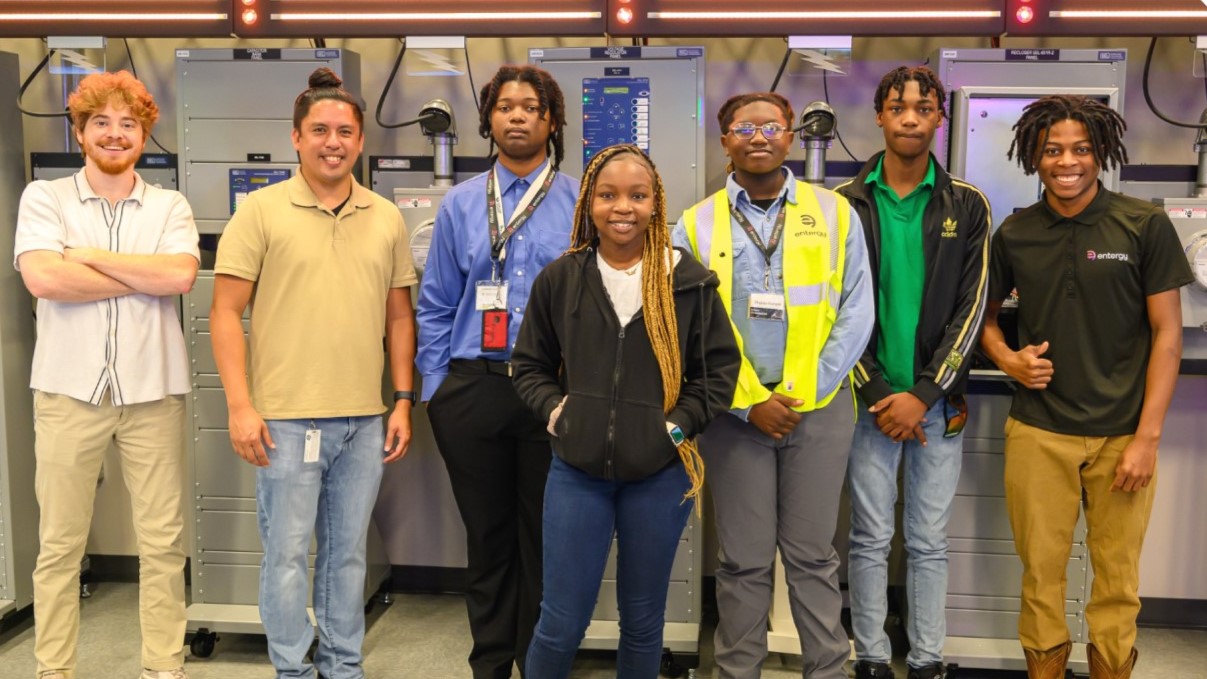 ENTERGIZE is an early career development program that provides a structured pathway for individuals starting their professional journey. It offers participants the guidance, mentorship and resources needed to navigate the complexities of their chosen field, helping them build a strong foundation for future success. This program is designed to foster skills development, build confidence and expose participants to diverse experiences, accelerating their growth and adaptability. ENTERGIZE focuses on generations in the workplace and how individuals early in their career can navigate these dynamics to be effective. The program empowers emerging talents and ensures they are better equipped to face the challenges and opportunities of their professional lives.
Once students from our workforce development programs and candidates from our strategic pipeline programs become Entergy employees, the Organizational Health and Diversity team focuses on retention, which is embedded in our workplace strategy. Through our custom and data-driven DIB strategy, our programs focus on ensuring every employee is equipped with the right tools and resources to help them reach their greatest career potential.
We also focus on talent already in the market, regardless of their industry experience. Our Workforce Pipeline team is building a stronger workforce through targeted recruiting and strategic pipeline programs.
Our internship program is a pipeline for entry-level talent and has produced more than 550 full-time Entergy employees in the past five years. Approximately 28% of the hires from this program have been female and 43% are ethnically diverse. We host spring, summer and fall sessions across all of our service territories. Opportunities range from internships to co-ops for students and full-time for recent graduates, and positions range from customer service and information technology to safety and security. Our summer intern program provides a mixture of on-site, hybrid and virtual positions to nearly 200 interns annually.
Employees have opportunities to develop professionally and make an impact by serving on advisory councils and boards, such as the Jefferson Parish Workforce Development Board, Southern University College of Science and Engineering Student Advisory Board, the Alcon State University Advanced Technology Advisory Board, the Vicksburg Workforce Engagement Council and the Advisory Board for the National Utility Diversity Council.
Inclusive hiring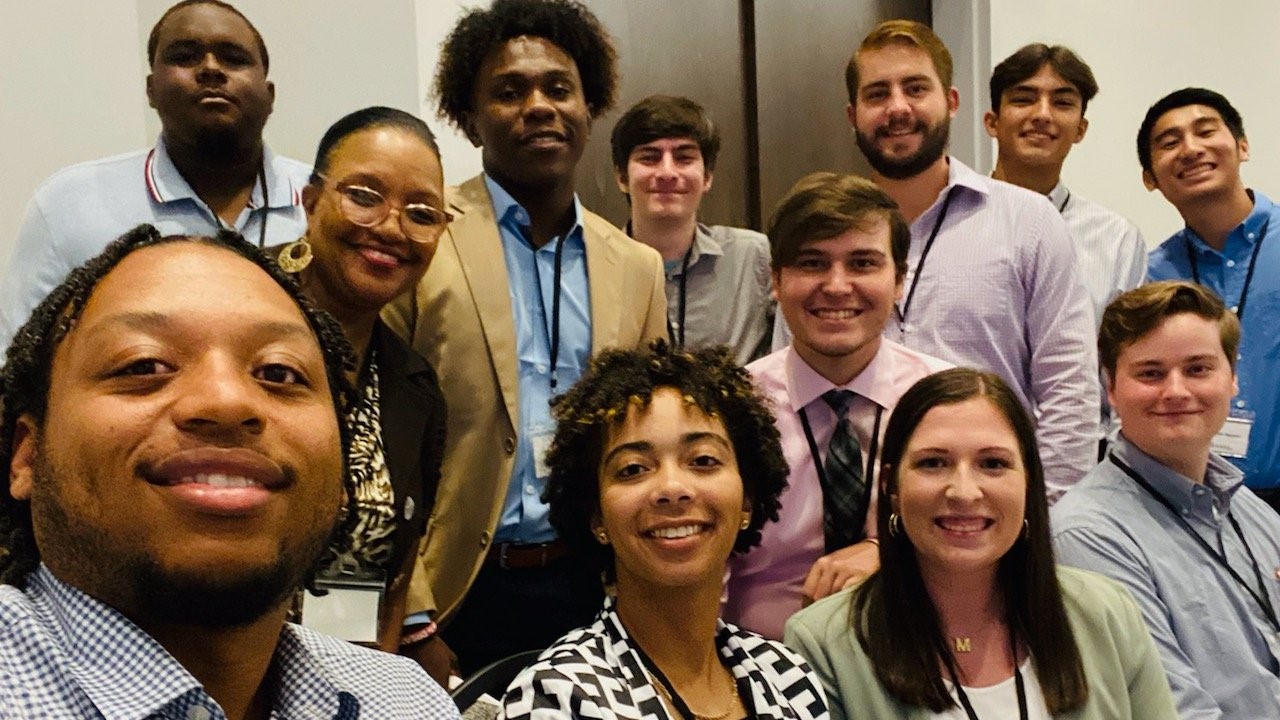 We have infused diversity, inclusion and belonging into our hiring policies, practices and procedures through communication, training, education and content. We launched an Inclusive Hiring pilot program to educate hiring managers and recruiters on practices to achieve our DIB outcomes. Hiring review boards were implemented across our larger organizations to increase leadership visibility and awareness and drive continuous improvement in hiring a diverse pool of talent. Diverse interview panels and diverse candidate slates were a few elements targeted to increase the probability of hiring diverse talent.
Our workplace
In addition to our focus on hiring diverse talent, we recognize the importance of creating an engaging and empowering culture.
We strive to maintain a work environment that is inclusive and recognizes the dignity and worth of every individual, regardless of individual characteristics. All employees and managers receive diversity and inclusion training as well as mandatory discrimination and harassment prevention training. Our staffing and succession planning programs are focused on ensuring every employee, regardless of gender, race, sexual orientation, disability or any other characteristic protected by law, is equipped with the right tools and resources to help them reach their greatest career potential. Our discrimination and harassment prevention policy extends further than the law requires, prohibiting harassment, intimidation, coercion, bullying and other types of abusive conduct.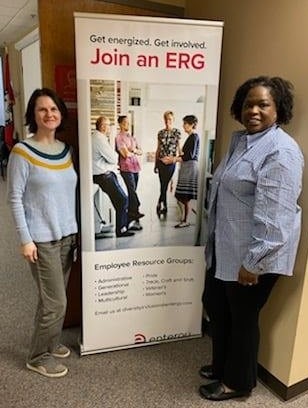 Our employee practices and policies reflect Entergy's respect for the human rights of all individuals and our commitment to the advancement and protection of human rights in all our operations. Our Human Rights Statement reflects the values by which we strive to operate as a business leader, employer and corporate citizen, and is aligned with the general principles for business enterprises set forth in the United Nations' "Guiding Principles on Business and Human Rights" to comply with all applicable laws and to respect human rights.
We believe healthy organizations value and use the full power of employees' diverse experiences and perspectives and actively work to create avenues to do so. Our employee resource groups are employee-led groups that provide opportunities to connect with others who share similar interests and backgrounds. ERGs give groups of employees a voice to make a difference and are pathways through which employees can engage in the business, network, grow and develop together.
Entergy has eight employee resource groups that comprise 2,400 members:
Administrative.
Generational.
Leadership.
Multicultural.
Pride.
Shift.
Veterans.
Women's.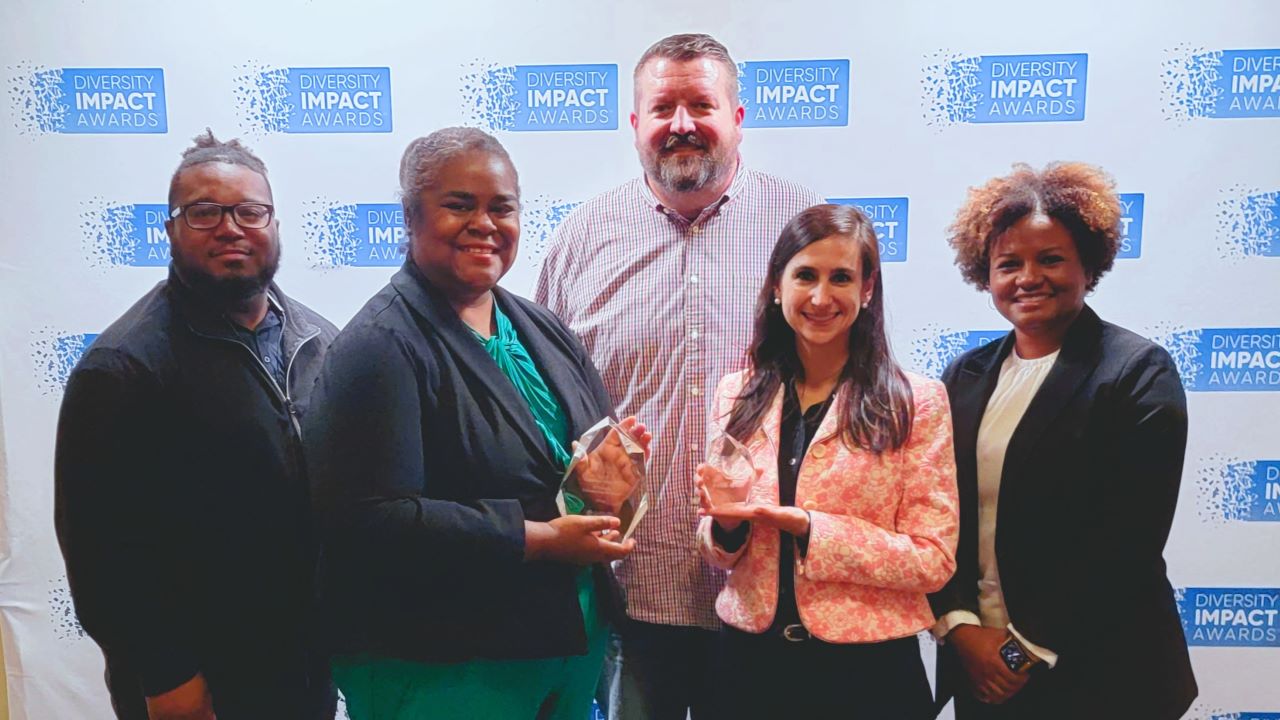 Our ERGs recently achieved a significant milestone by securing fifth position in the Top 10 Enterprise-Wide ERG Award in the 2023 Diversity Impact Awards. Our ERGs have maintained this impressive ranking for two consecutive years, and it's important to note that Entergy stands alone as the only utility company in this category. Our Leadership ERG achieved the second position in the Top 25 ERG Awards, marking the first time an individual ERG has attained such recognition. They have surpassed groups from major corporations such as NextEra Energy, Bank of America, AT&T and Amtrak.
Our organizational health
We recognize that a healthy and engaged culture is central to achieving successful business results in a changing world with evolving customer expectations. Our DIB strategy is to ensure everyone is empowered, included, equipped and encouraged to do their best work.
As part of our value-creating culture powered by organizational health, we regularly seek feedback from our employees and engage our Entergy Diversity Network.
Since 2014, employee feedback on Entergy's Organizational Health Index survey has deepened our understanding of how the behaviors that employees see in the workplace impact our organizational health. Coordinated by an external third party, the OHI survey invites employees to weigh in on a series of indicators that reflect our progress for nine outcomes:
Direction.
Leadership.
Culture and climate.
Accountability.
Coordination and control.
Capabilities.
Motivation.
Innovation and learning.
External orientation.
The survey also includes Entergy-specific questions for leadership practices, safety, diversity and inclusion, and ethics and compliance.
Survey input also helps us develop an Inclusive Climate Assessment that addresses the overall state of inclusion at Entergy and is another way that we assess inclusion and belonging. Each member of our senior management team performs a "deep dive" into their organization's Inclusive Climate Assessment data to identify trends and develop customized initiatives and solutions based on their specific results. For example, in our human resources organization, the survey data indicated a perceived gap between African American and white women in sponsorship, which led to the development of a mentoring and sponsorship program to ensure that interested African American women had access to those opportunities.
Across the company, we continue to host trainings on unconscious bias and inclusive leadership, and conduct meaningful conversations about the impact of race on our peers and co-workers. Thanks to these opportunities, we're building stronger relationships with each other and gaining insights into how our personal experiences shape our view of the world. More importantly, these meaningful conversations about inclusion and race are positioned to help grow relationships, awareness and understanding across our diversity of talent.
Our marketplace
We've been on a path to increase annual spending with diverse companies for several years. Our supplier diversity efforts focus on businesses that are at least 51% owned, controlled and managed by minority, woman, veteran, disabled veteran and LGBTQ populations. Businesses located in historically underutilized business zones, or HUBZone, also qualify as diverse firms and are designated as such by the federal government.
Our commitment to use diverse firms for products and services contributed to a significant increase in company spending with those firms in 2021. Led by our supply chain organization, we spent $1 billion with diverse firms in 2022. This achievement elevated Entergy to elite status nationally in an important category. We are now eligible to become a member of the exclusive Billion Dollar Roundtable, an organization that promotes and shares best practices in supply chain diversity excellence and recognizes corporations that achieve annual spending of at least $1 billion with diverse suppliers.
As we advance our work in diversity, inclusion and belonging, we will continue to find opportunities to enable innovation, solve problems, meet sustainability goals and instill DIB concept into our company's culture.
Further, our diversity, inclusion and belonging strategy is aligned with our corporate social responsibility strategy, which is designed to drive improvements in education and workforce development, poverty solutions and environmental programs. Key examples are the engagement and volunteerism of our employees and retirees, who are instrumental in achieving our philanthropic goals; our Entergy Scholars Program, which has been implemented at Southern University and Alcorn State University, provides students with mentors and career development sessions; and our participation in the National Association of State Energy Officials Roundtable on Clean Energy Workforce Development, Access and Inclusion. We've also embraced the United Nations Sustainable Development Goals and have identified primary areas that align most closely with our mission, philanthropic focus areas and overarching corporate strategy. Read more about our community actions and other corporate citizenship initiatives here.