Entergy's ethics and compliance culture is based on our core value of integrity and our adherence to laws and regulations that guide our operations. Led by our board of directors, Entergy maintains a forward-looking environmental management policy that extends beyond a dedication to environmental compliance. Our policy also commits us, among other things, to practice sustainability in all that we do, not only through our environmentally responsible behavior but also through our support of initiatives that promote local and global prosperity.
 
Entergy's environmental policy includes measures to protect and sustain natural resources, including air, water, and wildlife habitats. For example, at the Lewis Creek Plant in Willis, Texas, a water-constrained area, we work with the water conservation district to optimize water use, gaining best practices that can help us use water wisely throughout our operations. Entergy protects water resources by maintaining a compliance rate with state and federal permit requirements of at least 99 percent from year to year with permit limits related to water discharges and aquatic ecology protection. More information on water management is available here.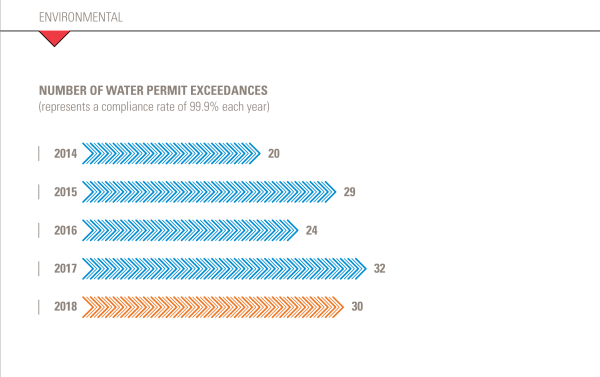 To limit our operational impact on biodiversity, we use integrated mapping systems to link data on habitats, threatened and endangered species, avian impacts and wetlands with all transmission and distribution projects. In addition, we actively participate in avian monitoring programs such as those for eagles. In 2017, we used our integrated mapping systems to twice reroute a proposed 25-mile transmission line in Madison County, Mississippi, to avoid three identified eagle nests.
 
Environmental compliance is a basic tenet of our comprehensive environmental strategy and our Environmental Management System. Our EMS connects overall company objectives to all operating sites through a common policy and strategy, identification of compliance requirements, a risk assessment, clear objectives, programs and procedures as well as training and an annual senior management review. We validate our EMS and our environmental performance through annual third-party audits and provide transparency to our stakeholders through extensive environmental performance reporting.
Material fines or penalties imposed for environmental non-compliance are disclosed in Entergy's SEC Form 10-K. Information on Entergy spills reported to the National Response Center can be reviewed online.
Click here to learn more about Entergy's Environmental Performance.