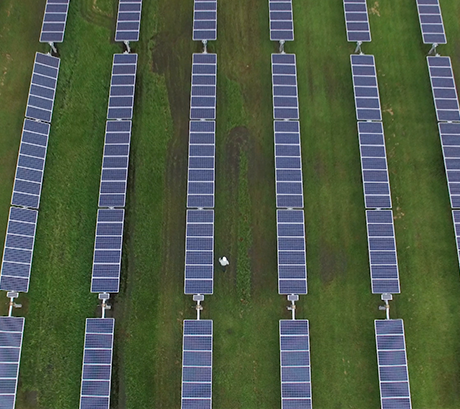 Renewable Energy
Solar power for a brighter future.
Entergy New Orleans continues adding the power of the sun to its generation portfolio through a variety of new projects. A diverse energy portfolio helps us keep costs as low as possible, and renewable energy will help ensure a brighter future for generations.
Our commercial-scale rooftop solar project puts solar panels on previously unused commercial rooftops and puts the energy generated directly on the electric distribution grid. We also launched a Residential Rooftop Solar Pilot Program as a simple and straightforward way for low- to moderate-income New Orleans customers to participate in the benefits of distributed renewable energy. Qualifying homeowners can earn a $30 bill credit, rain or shine, in exchange for allowing Entergy access to install a utility owned and operated solar system on their roof.
Additionally, Entergy New Orleans is working on three new solar projects. These are a 20 MW solar facility to be constructed by Entergy on approximately 100 acres of flood-protected property at NASA's Michoud Assembly Facility in New Orleans East, a 50 MW power purchase agreement from a solar facility to be constructed on LSU AgCenter land in Washington Parish, and a 20 MW power purchase agreement from a solar facility to be constructed on land in St. James Parish.
In addition to supporting a sustainable New Orleans, the projects will help further decarbonize the economy and demonstrate that Entergy New Orleans is making good on its commitment to the environment and renewable energy.
To learn more about our solar efforts, click here.