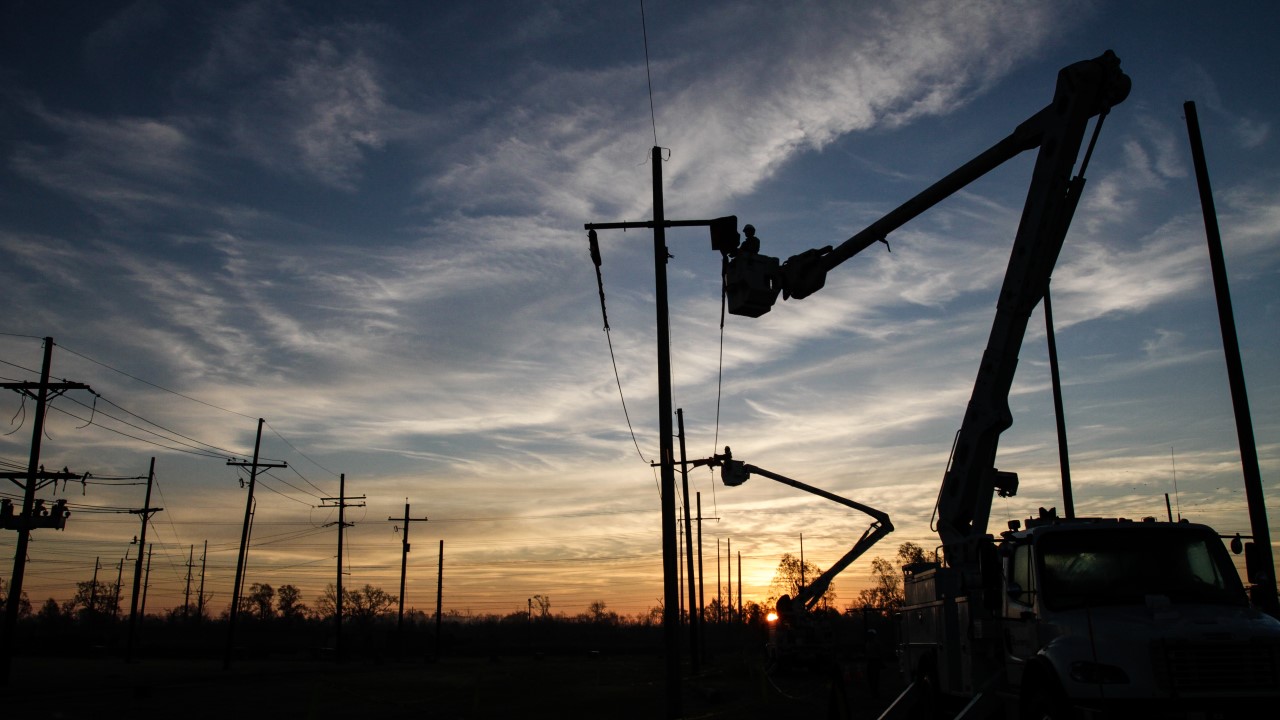 At Entergy, we're always working to improve the reliability of your electric service. We strive to bring the most safe, cost-effective and reliable product possible to nearly 3 million customers in Arkansas, Louisiana, Mississippi and Texas.
Sometimes, however, your power goes out. Here are some of the most common causes of power outages in our service area:
Weather
The impacts of severe weather are some of the most visible causes of power outages in our service area. We serve areas prone to hurricanes, tornadoes, ice storms and flooding, all of which can damage electrical equipment and interrupt service to customers. Lightning strikes on or near electric infrastructure are one of the top drivers of customer outages in our service area. Learn more about how we prepare for severe weather impacts.
Trees and vegetation
We serve an area of the United States that has a very long growing season due to its temperate climate. Thus, managing the growth of trees, vines and other vegetation on or near infrastructure is an ongoing effort. In addition to managing vegetation growth, high winds can also cause trees and limbs to fall on power lines, bringing those lines to the ground or breaking the lines and poles completely. Learn more about our tree trimming and vegetation management program.
Animals
Because so many of the areas we serve are rural, we see a lot of animal activity around the infrastructure that serves you. Animals cause power outages when they climb on or inside equipment, which can create contact between components or trigger shut down for safety purposes. We work to prevent this activity by installing custom covers that fit over infrastructure, special fencing around substations, insulated tape wrapped around wires and animal deterrents such as reflectors and disk barriers.
Scheduled outages
We sometimes interrupt power to customers to perform scheduled maintenance on our system, put new infrastructure into service or complete large repairs. We make every effort to notify customers of planned outages before they occur.
Equipment failure
Our power delivery system is a large one. Among the 20 largest privately or investor-owned power producers, Entergy ranks as the fifth-largest. We maintain approximately 15,900 circuit miles of interconnected high-voltage transmission lines and 105,000 miles of distribution line, in addition to a web of power plants, substations and related equipment. Though we work through a proactive maintenance plan each year, equipment failure sometimes occurs. In those instances, crews are dispatched to repair or replace impacted equipment as safely and quickly as possible. Learn more about our reliability program.
Public damage
In some cases, activity by the public can impact our infrastructure and cause service interruptions for our customers. Examples include vehicle accidents, unsafe digging or overhead construction, and vandalism or metal theft. We work hard to educate the public about safe digging, and we collaborate closely with local agencies and law enforcement to minimize the impacts of vehicle accidents and criminal activity. 
Balloons can add a festive touch to graduation parties, celebrations and other outdoor gatherings. But they can also cause power outages.
---
If you do experience an outage, you can report it by texting OUT to 36778, reporting it via the free Entergy app, or calling 1-800-9OUTAGE. You can keep up with restoration progress on our view outages map.
Having a reliable supply of electricity is more than just a convenience. It's a necessity. Maintaining reliability requires constant commitment. Our electric system is a complex interconnected network of generation, transmission and distribution systems. The structure of the grid helps make reliability possible, but what makes it a reality is coordination among the electric companies that make up this network. Learn more about how we work together.