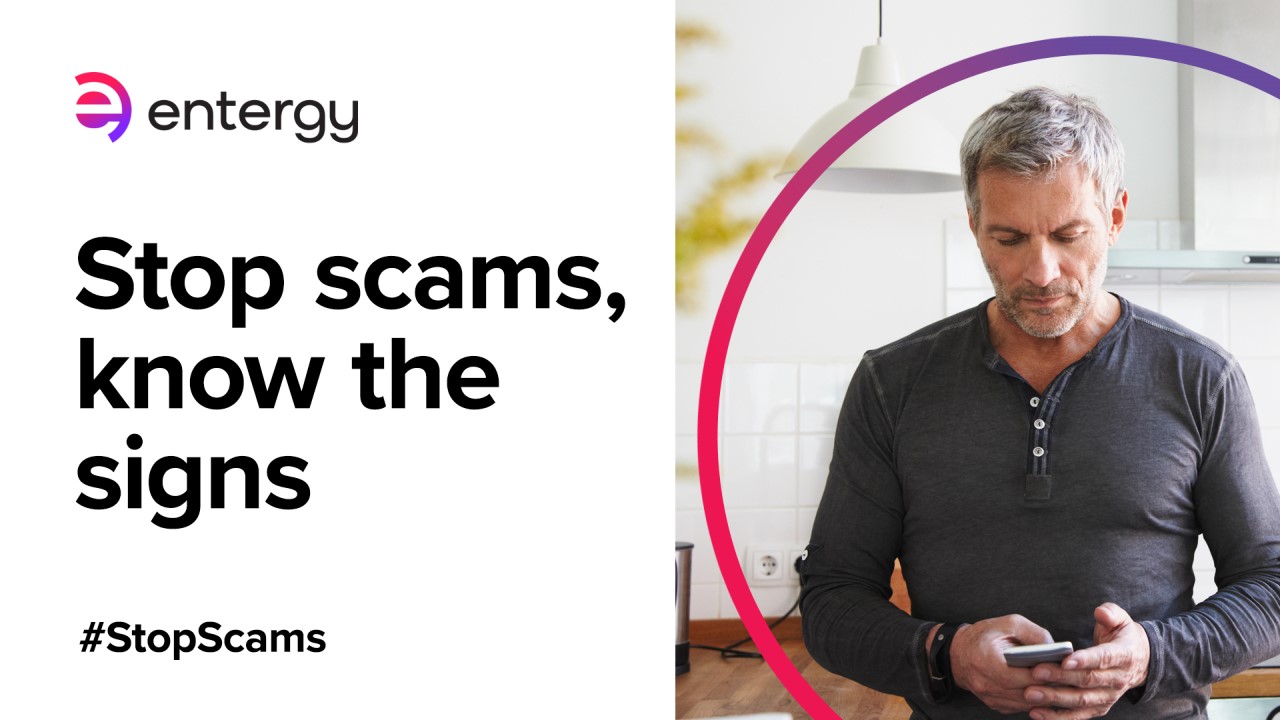 At Entergy, we put the safety and well-being of our customers at the forefront of everything we do. Unfortunately, we continue to see an increase in attempts to scam our customers. We want to ensure we provide the most current and reliable information regarding scams to our customers and provide tools to help you to keep your information safe.
What to do if you suspect a scam
If the suspected scammer is present and you feel you are in immediate danger, call 911 as soon as possible.
Contact Entergy by calling 1-800-ENTERGY to speak with a company customer service representative.
Inform your bank or financial institution, who may then direct you to other protective measures.
There are some steps customers should take to protect their personal information from scammers:
Never give out your banking information by email or phone. Entergy doesn't demand banking information by email or phone or force you to pay by phone as your only option.
Never give out your personal information by email or phone. Never give out personal information such as your social security number or Entergy account number to an unsolicited caller. Entergy will never call you to request personal information over the phone.
Cut offs. Entergy does not cut off service without considerable advance warning.
Don't pay any Entergy bill with a gift card, cash reload card, wiring money or cryptocurrency. Entergy doesn't demand or accept gift cards (such as iTunes or Amazon), cash reload cards (such as MoneyPak, Vanilla, or Reloadit), or cryptocurrency (such as bitcoin).
How to tell if someone may be scamming you
Phone
One of the most common methods scammers use is calling customers directly and pretending to be an Entergy employee. Scammers threaten to disconnect the customer's electrical services if instant payment on a past due bill isn't received. They then direct the customer to transfer funds electronically, sometimes through money wiring systems or pre-paid cards. In recent instances, callers have even started demanding immediate payment over the phone. The callers often use sophisticated spoofing technology to replicate the local utility's name and number on the customer's caller ID box, making it particularly difficult for the customer to spot this scam.
Texting scams, or "smishing," is on the rise. The text messages look like they could be legit because the scammers have the target customer's name and address. In some cases, they even provide the name or title of someone who is supposedly an Entergy employee – making the text look even more official. Please remember this: If the text is demanding immediate payment under threat of disconnecting service, it is NOT Entergy. It's a scam. Do not send them money.
The Federal Communications Commission has reported that severe storm events may raise the risk of weather-event-related scam calls. Scammers know that severe weather may have led to a power shut off and might pose as Entergy when contacting customers. The Federal Trade Commission also provides updates on recent scam alerts.
What should you do? Remember, Entergy NEVER demands immediate payment from customers over the phone. You shouldn't give your personal information to strangers. If a call sounds suspicious, hang-up and call 1-800-ENTERGY (1-800-368-3749) to speak directly with an Entergy customer service representative. If you believe you are a victim of this scam, notify the proper authorities, such as the local police or the state attorney general's office.
In-Person
While far less common than any other scams, in-person con artists have been known to pose as utility workers and go door-to-door. In most instances, the scammers claim they need access to your property to provide repairs, offer free inspections, or to get power back on first following an outage or disconnect for an upfront payment.
What should you do? Entergy will contact you via phone or written notice if we need to access your property for any reason. Our employees will also be clearly identified with branded uniforms and badges, if you're unsure, call Entergy to verify that a service representative should be on-site. We will also NEVER demand payment at your door to reconnect your power. Should you suspect an in-person scammer and you feel threatened, call 911 as soon as possible. Then, contact Entergy at 1-800-ENTERGY to speak with a customer service representative.
Digital and Social
With a growing number of customers conducting business with Entergy online, we continue to see a rise in digital scams via email, text and social media. Scammers have been known to send fake (but highly-realistic) account bills to customers asking for immediate payment. Another tactic commonly used is text message phishing, where cellphone users receive a text asking for information such as banking account numbers, credit/debit card information or social security numbers.
What should you do? Never click on links or attachments or respond to emails or text messages unless you're certain who the sender is. Entergy will not send a paperless bill unless you've signed up for that service and will NEVER ask for payment via text message or social media. If you believe you're being contacted via a fraudulent account, stop what you're doing and call 1-800-ENTERGY to speak directly with an Entergy customer service representative.
Employment
Scams asking for payment continue to be the most prevalent, but we've recently seen a rise in employment scams. In these cases, community members, who may or may not be seeking employment with Entergy, receive emails or phone calls with job offers from the company or ask for payment to submit an application. Scammers then seek out personal information such as birthdays, social security numbers or banking information. Employment scams are becoming increasingly more realistic, with caller-IDs reading as an Entergy phone number in some instances.
What should you do? Entergy will not pursue applicants who haven't applied for a position via an official human resources job application first. You should NEVER provide personal information if you have not filled out paperwork for employment or gone through a formal recruitment process. Fraudulent job offers will also often come from non-Entergy branded accounts. These false offers may contain poor grammar and seek payment. Should you be contacted unexpectedly for Entergy employment, call 1-800-ENTERGY to speak directly with an Entergy customer service representative.
Advanced Meters
As Entergy continues to install advanced meters across its service territory, we are seeing an increase in scams surrounding this new technology. Scammers are reaching out to customers asking for fees, pre-installment payments, or various other monetary exchanges before we install a new meter. 
What should you do? Before we install your new meter, we'll share either a mailed or emailed letter with detailed questions and answers about what to expect during your meter upgrade. Another notification will be sent a few weeks prior to your scheduled installation. Before beginning installation, the installer will knock on your door so you can be prepared and informed about the process. Installers will have a badged I.D., uniform and automobile cling displaying the Entergy logo. We will NEVER ask for any form of payment before installing a meter. If you suspect a communication regarding meter installation to be fraudulent, call 1-800-ENTERGY to speak directly with an Entergy customer service representative.

How to safely pay your Entergy bill
You should only use authorized methods and legitimate banking information to pay your Entergy bill. We offer several convenient ways:
Pay online - myEntergy. For no additional charge, conveniently pay your bill online by electronic check. Log in securely to myEntergy to view and pay your bills.
Pay by phone - Pay your bill by credit card, debit card or electronic check by calling 1-800-584-1241. BillMatrix, our pay-by-phone provider, will charge a $2.75 service fee. BillMatrix is the only authorized credit card vendor authorized to process these types of payments.
Pay by credit/debit card - Pay your bill with a credit card, debit card or electronic check by phone (1-800-584-1241) or through the BillMatrix website, for a $1.60 service fee.
Walk-in payment centers - Pay your bill in person with cash, check or money order at one of the authorized Quick Payment Centers in your community. A convenience fee may apply (New Orleans only).
Auto pay bank draft - Automatically deduct your bill payment from your checking account each month. We'll mail a monthly billing statement to you for your records, showing the bill amount and bank draft date.
Pay by mail - Send check by U.S. mail to the remittance address shown on your bill.