About Palisades Power Plant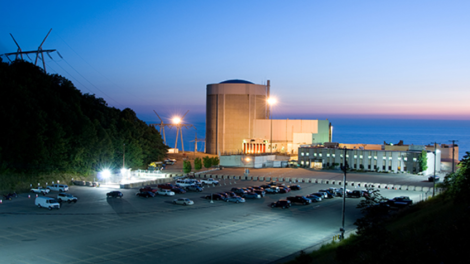 Palisades Nuclear Power Plant, located in Covert, Michigan, is owned by Entergy, one of the nation's leading nuclear generators. It is a one-unit, pressurized water reactor capable of producing enough energy for approximately 800,000 homes. Palisades began commercial operation in December 1971 and has a license to operate through 2031.
---
Specifications
Location: Covert, Mich. (five miles south of South Haven, Mich.)
Reactor Manufacturer: Combustion Engineering
Turbine-Generator: Westinghouse Electric
Architect-Engineer/Constructor: Bechtel Power Corporation
Commercial Operation Date: Dec. 1971
Maximum Dependable Capacity: 798 megawatts
License Expiration Date: 2031
Ownership: Entergy
Entergy status: Entergy assumed operating authority from the owner in April 2007.
---
Address
Palisades Nuclear Plant
27780 Blue Star Memorial Highway
Covert, Mich. 49043-9530
---
Milestones
1966: Construction begins.
1971: First commercial generation of electricity on Dec. 31.
2000: Nuclear Management Company begins operating the plant. Consumers Energy retains ownership.
2005: Nuclear Management Company, on behalf of Consumers Energy, files a 20-year license renewal application with the U.S. Nuclear Regulatory Commission.
2007: Entergy signs closing agreement on April 11, 2007 to assume ownership of Palisades Power Plant.
2016: Entergy proposes early end to Palisades power purchase agreement; plant scheduled to close in 2018.
2017: Entergy announces Palisades to continue operating until spring 2022.
2018: Entergy agrees to post-shutdown sale of Palisades to Holtec International for decommissioning.