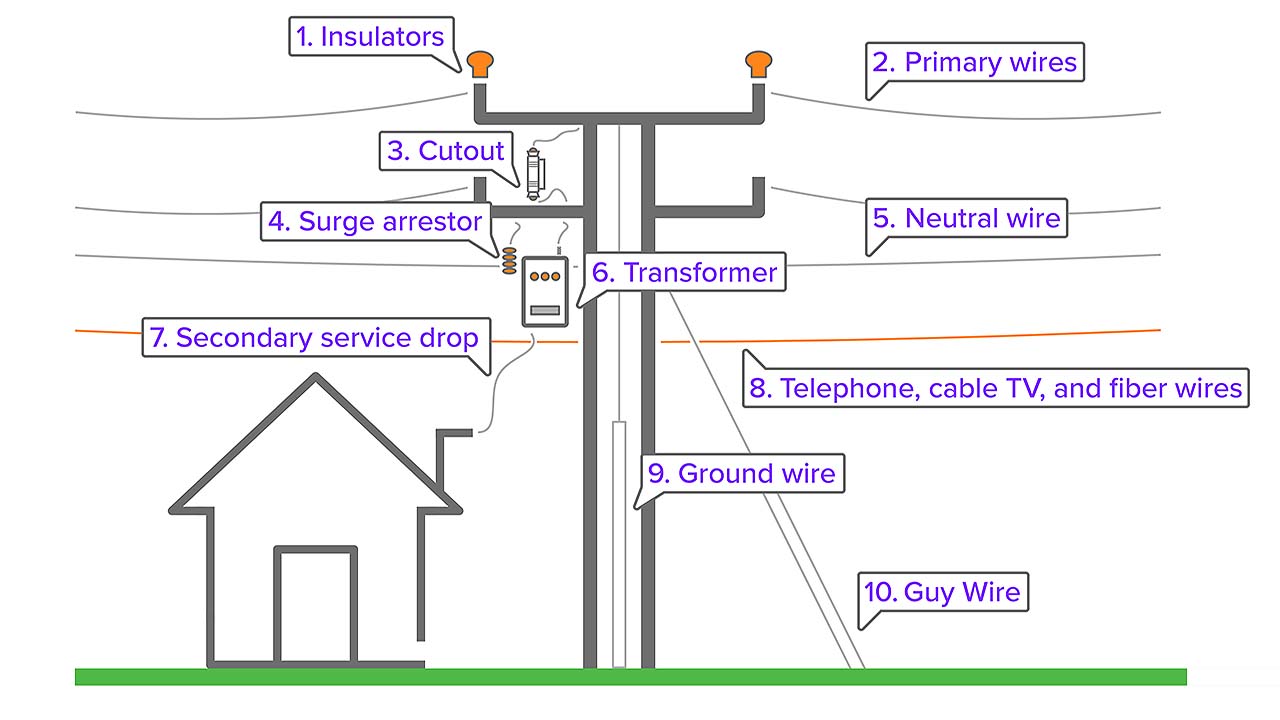 A typical setup for overhead power lines
There are many different arrangements of equipment on utility poles, depending on the service being provided and location. The diagram above represents a common arrangement of equipment within Entergy's distribution networks. Typically, anything located above the telephone cables can be assumed to be Entergy's equipment. Learn more about what equipment is yours and what equipment is ours.
Insulators
Prevent energized wires from contacting each other or the pole.
Primary wires
Carry between 2,400 to 34,500 volts of electricity from a substation. That's up to 290 times higher than the voltage in your home's electrical outlets!
Cutout
Acts like a fuse and opens when there is a problem with the line or a section of it.
Surge arrestor
Offers lightning protection.
Neutral wire
Balances the electricity on the system. It's tied to the ground and runs back to the substation.
Transformers
Converts higher voltage electricity carried by primary wires and lower the voltage for use by customers.
Secondary service drop
Carries 120/240 volts of electricity to customers' homes. It contains two "hot" wires from the transformer and a bare "neutral" wire that's connected to the ground wire on the pole.
Telephone, cable TV, and fiber wires
These are typically the lowest wires on the pole and not maintained by Entergy.
Ground wire
Completes the circuit inside the transformer by connecting to the neutral wire. It also directs electricity from lightning into the earth.
Guy wire
Used to support the poles. It usually has insulators and a sheath of yellow plastic reflector for safety.
Take a minute. Save your life.
Power lines can kill. Whether you're at home or on a worksite, always avoid power lines. If you notice a potential hazard, please call 1-800-ENTERGY (1-800-368-3749) and we'll make sure it's safe.
Tómate un minuto. Salva tu vida.
Las líneas eléctricas pueden matar. Si usted está en la casa o en el trabajo, siempre evite las líneas eléctricas. Si usted nota un probable peligro, por favor llame al 1-800-ENTERGY (1-800-368-3749) .