Powering life sustainably


Leading the way
Protecting the environment is one of many ways that Entergy powers life and creates sustainable value for our stakeholders — customers, employees, communities and owners. 
Entergy is recognized as an industry leader for taking bold action to address climate issues. In 2001, we were the first U.S. electric utility to commit to voluntarily stabilizing greenhouse gas emissions. Since then, we've challenged ourselves even further and set stricter reduction targets.
In 2019, we set a new emissions strategy for the next decade by committing to reduce our emission intensity by 50% from our 2000 level by 2030. This means that for every unit of electricity Entergy generates, we will emit half the CO2 that we emitted in 2000. Learn more in our climate report here. 
Now, we are accelerating our climate action goals with a commitment to achieving net-zero carbon emissions by 2050. This commitment illustrates our ongoing view of the importance of environmental stewardship. Learn more about our strategic actions and opportunities for technological advances here.
---
Energy diversity means sustainability and affordability
It is critically important that we maintain a diverse energy portfolio for our customers. Entergy Louisiana primarily uses natural gas and nuclear power generation in addition to purchased power to meet customers' needs. This level of diversity not only keeps prices as low as possible, but it helps to control emission output.
Natural Gas — 51%
Coal — 2%
Nuclear — 22%
Purchases — 22%
Renewables — 3%
We're also looking to the future by pursuing new sources of emission-free energy for our customers. We have issued a request for proposals to add up to 300 MW of new-build solar resources in Louisiana by the end of 2023.
In October 2020, we started purchasing power from Capital Region Solar, a 50-megawatt solar plant built near Port Allen in West Baton Rouge Parish.
These new sources will add to the approximately 190 megawatts of renewables – including hydro, waste heat recovery and biomass – currently in our generation portfolio.
We are increasing our environmental efficiency with each new project.
---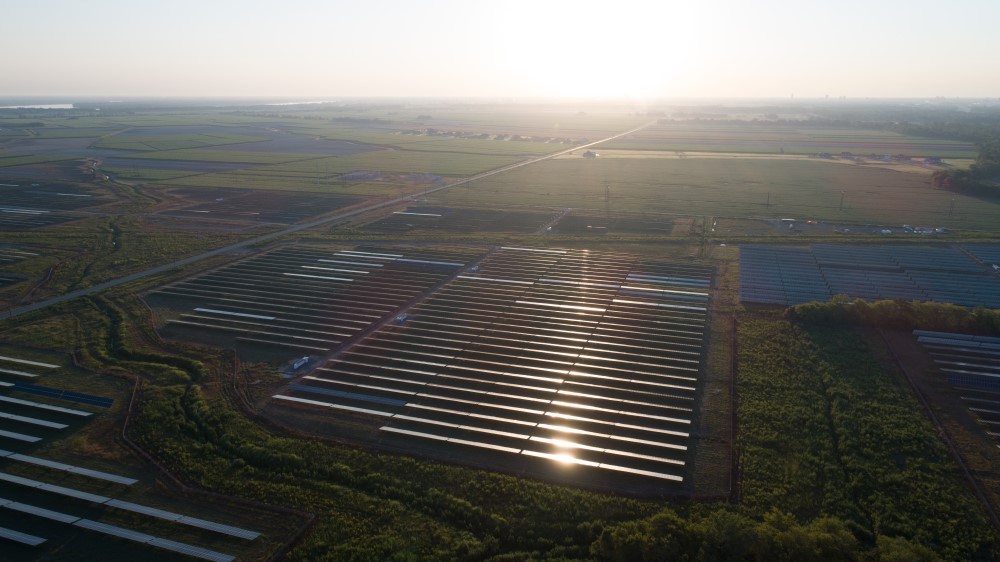 Renewable energy
Solar power for a brighter future.
Entergy Louisiana continues adding the power of the sun to its generation portfolio through a variety of new projects. A diverse energy portfolio helps us keep costs as low as possible, and renewable energy will help ensure a brighter future for generations.
In October, 2020, Entergy Louisiana customers began receiving power from the largest solar facility in the state, the Capital Region Solar site. Located in West Baton Rouge Parish, the 50-megawatt facility provides a source of clean, reliable and affordable energy for the region.
Entergy Louisiana recognizes that customers are increasingly interested in renewable energy. In coordination with regulators, Entergy Louisiana is working to expand its portfolio of energy solutions, while achieving the company's sustainability goals. As part of its plan to continue expanding its clean-energy portfolio for the benefit of customers, Entergy Louisiana has issued a request for proposals to add up to 300 megawatts of utility-scale solar resources that would be in service by 2023.