Entergy purchases approximately $5 billion annually in materials and services across 8,500 active suppliers in the continental United States. Spend occurs across 19 key categories that support the main service territories we serve in Louisiana, Mississippi, Texas and Arkansas. In 2019, we expanded our supplier governance board to  focus on additional business units in the company, including nuclear and utility operations. We took this action to ensure that we make quality decisions that create value for our stakeholders when managing the supply-chain process of purchasing materials and contracting for services from third-party suppliers. 
All suppliers are expected to conduct business in a manner consistent with our supplier code of conduct. See our supplier code of conduct here. Entergy expects its suppliers to provide goods and services in a safe and environmentally conscientious manner. We actively seek suppliers who share our commitment to protect the environment and who operate in a fair, honest and socially responsible manner. and. We have incentive and non-incentive scorecards that target multiple performance indicators for the company and our key suppliers, including sustainability-related measures. Although specific scorecard measures differ based on services and products provided, standard metrics used to align contractor performance with company objectives include safety, budget, schedule, reliability and human performance. For more details around our strategy, please see our Supply Chain Social Responsibility Strategy here. 
We are an active member of the Electric Utility Industry Sustainable Supply Chain Alliance. EUISSCA is known as the leader in establishing and promoting sustainability best practices in the electric utility supply chain in North America. Our chief supply officer served on the executive committee in 2019 and  was elected as the vice chair for 2020. In addition, Entergy supply chain members served on several  key subcommittees including:
Social aspects of sustainability.
A supplier survey committee to measure key suppliers' sustainability performance.
Investment recovery.
A committee created to embed sustainability questions in the utility sourcing processes.

Key Supply Chain Initiatives
We have strategic partnerships with key vendors to support reforestation working closely with industry experts in print and forestry to develop standards for measuring, offsetting and verifying the successful reforestation of paper consumption. Through this partnership, we have:
Offset approximately 86,577,000 sheets of printed paper or the equivalent of about 10,400 trees (2018).
Contributed funding to plant almost 10,400 trees in support of global reforestation projects in Brazil, the Dominican Republic, India, Ireland, Madagascar, Mexico and the United States (2019).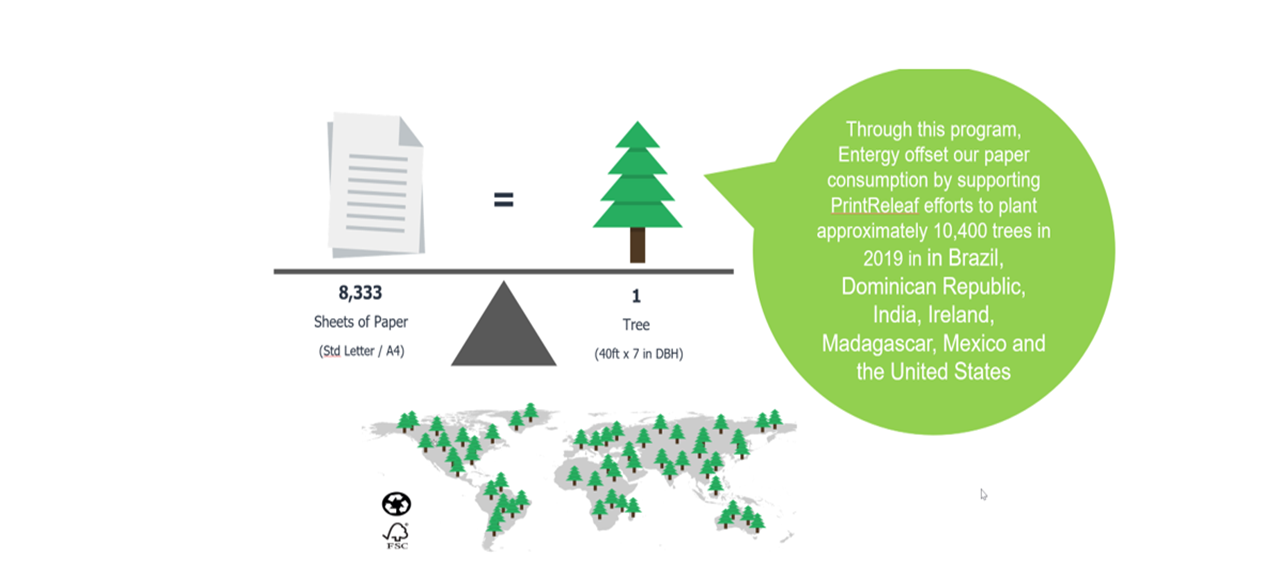 We have a partnership with a strategic vendor to reduce printed paper consumption: The partnership has resulted in a positive imprint on the environment through the following reductions:
727 million British Thermal Units.
6,275,342 printed pages.
1,855,008 gallons of waste water.
258 tons of wood.
511,229 pounds of greenhouse gas emissions. 
PrintSmart Partnership Achievements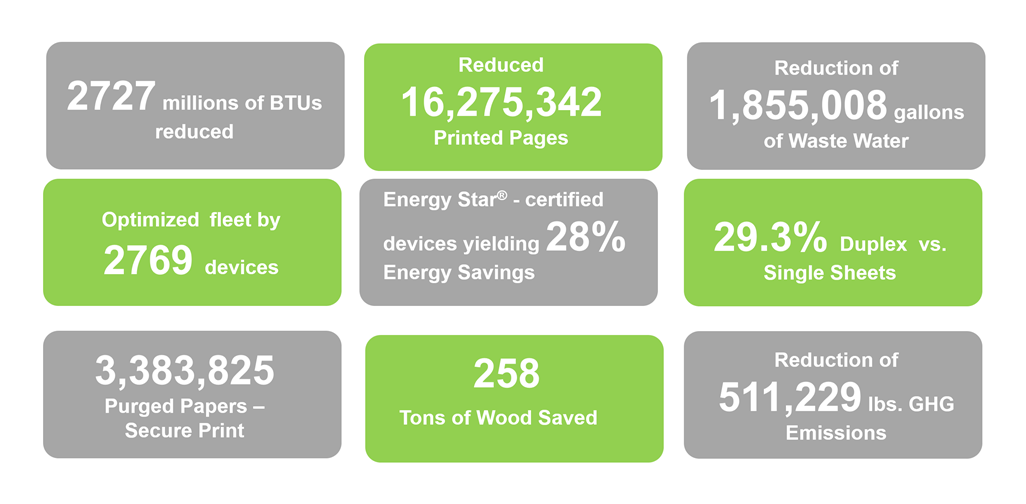 We have a partnership with a key vendor in support of a carbon-neutral floor program: Entergy purchased 30,060 square yards of carbon-neutral flooring that resulted in the reduction of 274 metric tons of carbon.

We have a fly ash marketing agreement with another key vendor. The results of this strategic effort will improve the maintenance of the landfills at Entergy's coal sites that have stringent environmental compliance while improving fly ash sales revenues from $13 million to $38 million over the five-year agreement. This improved revenue stream goes directly back to Entergy's customers which helps us remain a low-cost provider. With the increase sales of fly ash in the future, less product will be delivered to our landfills.
Entergy's environmental waste reduction initiative support: In recent years, contractor waste generation has moved under the oversight of Entergy's environmental team. In 2019, supply chain supported the group's environmental waste reduction initiative by providing better contract structure to manage waste classifications. Results include reducing risk of errors in waste classification by having better contractual control through the blanket orders and blanket order release process established with the supplier. Managing this process with the suppliers has improved the errors/manhours taken to process invoices. 
Enterprise investment recovery program management: This program is responsible for obtaining the best return on the dollar for assets that Entergy no longer requires. In addition to avoiding putting retired assets into landfill, this program:
Facilitates recycling/repurposing retired assets and components.
Sells surplus assets.
Assesses market conditions and trends.
This is done to ensure that Entergy receives the maximum value in investment recovery sales to, ultimately, benefit our customers. In 2019, investment recovery sales totaled $18.8 million for a cumulative total in sales of $64.6 million since 2015. Our target for investment recovery sales in 2020 is $8 million. Additionally, Entergy was able to recycle 14,503,000 pounds of metals in our distribution operations organization. This included recycling legacy meters from the grid modernization project.
Entergy's supplier diversity and development program: This program is designed to  identify and develop a robust population of safe, competent and competitive suppliers capable of meeting the company's various business needs as we power life for our stakeholder groups. Entergy is committed to supplier diversity by incorporating a focus on supplier diversity strategy into the overall company strategy. Diverse suppliers provide a variety of products and services that support the company's investments across our different business functions. Entergy makes a concerted effort to ensure that diverse suppliers are included in all applicable sourcing opportunities. In 2019, Entergy:
Spent more than $667 million with approximately 720 diverse firms.
Was recognized as Corporation of the Year.
Had a supply chain team member recognized as Buyer of the Year by the Southern Region Minority Supplier Development Council.
Received nominations from the Women Business Enterprise Council's Southern affiliate for Corporation and Advocate of the Year.
For the 2020, Entergy has set a diverse spend target of 14% of managed spend. 
Vendor management and risk oversight procedure and program implementation. This procedure, which was implemented in January 2020, documents the steps taken to provide supplier segmentation, relationship management for the different vendor segments and risk management for vendors within the scope of the vendor management and oversight program. The objective of the VMOS program is to take a risk-based approach to mitigate key risks in the supply chain and drive vendor performance to meet or exceed expectations through an organized and structured relationship model between the vendor and Entergy. The scope of this procedure includes all vendors that fall within the scope of Entergy's Procurement policy.
VMOS vendor risk assessment process: This process identifies risks to the supply of goods or services under contract, estimates the potential impact and likelihood of those risks, and drives mitigation plans. Risks are screened for individual contracts to account for the varying scopes that a vendor can deliver to the company. Vendors are divided into four segments based on the magnitude of managed spend with the vendor, as well as the criticality, specificity and risk attributes of the vendor's impact on Entergy. Risks are grouped into eight risk lenses:
Safety.
Operational.
Compliance.
Environmental.
Reputational.
Financial.
Supplier strategy.
Business continuity.
Pricing.
IT/Cybersecurity.
In 2020, we plan to execute the VMOS process with 63 of our top vendors. During this process, regular meetings with risk SMEs are conducted to review mitigating actions and mitigations are put into place. Contract managers are responsible for continual monitoring of the risks and mitigating actions. Improvement opportunities related to business function processes are also provided to the business functions, and the business functions may use the data as part of their ongoing continuous improvement programs.