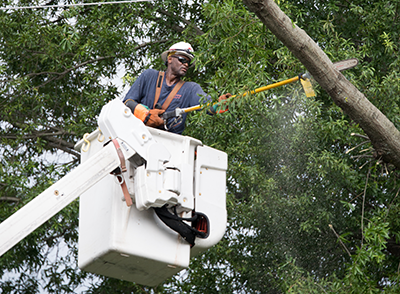 Entergy is committed to maintaining its infrastructure in a manner that helps ensure the safety of its employees, customers, and community. Part of that commitment is trimming or removing trees that are too close to the power lines and may be likely to cause power outages or create a safety hazard. 
If you see a tree or branch that looks dangerously close to the power lines (pole-to-pole), you can call 1-800-ENTERGY (1-800-368-3749) and report it. A representative of Entergy will assess the situation and advise what needs to be done.
Why do we trim trees?
Safety
Overgrown trees or limbs near power lines can pose a serious danger to unsuspecting children or adults who could come in contact with a live power line while climbing a tree. Appropriate vegetation clearance on the power lines allows for much safer access by personnel during any restoration effort. By maintaining this clearance, we can restore customer power much more safely and efficiently. Tree trimming also helps prevent fire hazards if drought conditions are present.
Power lines can carry up to 34,500 volts and can be deadly. Never touch an electrical wire; always assume it is conducting electricity and is dangerous. 
If you are planning to trim or remove a tree near any power or service line, please contact us at 1-800-ENTERGY (1-800-368-3749) or contact us online. Trained personnel can identify potential reliability or safety threats and advise you what can be done.
Reliability
Storms and high winds are the leading cause of power outages. Trees that are too close to power lines can interrupt electric service, damage our infrastructure, and create dangerous situations when the lines go down. A single tree-to-wire contact may interrupt electric service to hundreds of homes and businesses. If electric service is lost to medical facilities, water systems, traffic lights, or emergency service providers, the results can seriously impact the community.
One of the best ways to reduce interruption to electric service is by maintaining adequate clearance between power lines and trees by trimming or removing trees that are too close to the power lines. Entergy performs only the work needed to maintain reliable electric service.
Storm restoration
After a storm, Entergy's priority is to restore power to our customers as quickly and safely as possible. We will clear downed trees and limbs that interfere with our power lines and equipment to facilitate safety and service restoration. However, in storm restorations, all debris will be left on the premises. Crews will not be returning for clean-up. This is the responsibility of the customer.
Tree health
We appreciate the environmental benefits and natural beauty of trees as much as our customers do.
We trim trees only when necessary, and we go to extra effort to preserve the health of the trees to the degree possible. To do this, we follow specifications developed by the International Society of Arboriculture.
In addition, the Arbor Day Foundation has repeatedly named Entergy a Tree Line USA utility as a result of our commitment to proper tree pruning, planting and care in our service area. Learn more here.